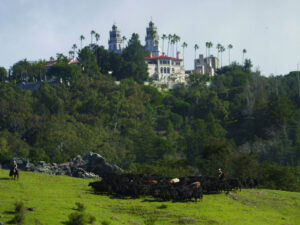 By Henry Chappell | Photography by Richard Field Levine, Steve Miller & Alexander Vertikoff The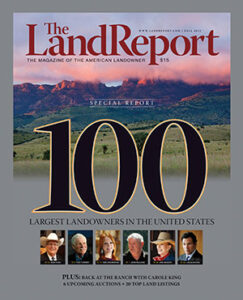 With 2.2 million acres, John Malone takes top honors for the third consecutive year. His love of land, coupled with his wife's love of horses, led to several key acquisitions, including a historic Irish castle just south of Dublin and two properties in Wellington, the epicenter of Florida's equestrian community.
At more than 2 million acres, Ted Turner runs a close second to his good friend. Turner enjoys the distinction of being New Mexico's largest landowner, and he capitalized on that honor by acquiring the historic Sierra Grande Lodge and Spa in Truth or Consequences. Guests at the Lodge will be able to enjoy tours of Turner's 156,439-acre Ladder Ranch and his 362,885-acre Armendaris Ranch.
Thanks to his acquisition of the Broken O Ranch, Denver Nuggets owner Stan Kroenke moved up from No. 10 on last year's list to No. 8 in the rankings. Among the newcomers to this year's list are Texas's Wilks Brothers, founders of Frac Tech. Their prized jewel is Montana's 60,000-acre N Bar Ranch, which they acquired from former Land Report 100er Tom Siebel, founder of Siebel Systems. Another new name on the list is Arthur Nicholas, who serves on the board of the National Cowboy & Western Heritage Museum. Nicholas is the owner of Wyoming's historic Wagonhound Land and Livestock Co., which is the subject of a new book by Land Reporters Wyman Meinzer and Henry Chappell.
We invite you to be among the first to view the complete rundown of America's top landowners, which is available exclusively on the Fay Ranches website. Click here to download your PDF today.