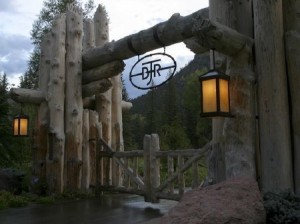 The most mystifying aspect to the $88 million Boot Jack Ranch, which is currently listed with a Sotheby's affiliate in Telluride, is that it's owned by a Silicon Valley commercial real estate developer. This property is a textbook example of overimproving a piece of property.
Interested buyers are certain to find out that it's less than 100 miles from the Boot Jack, which sits on the west side of Wolf Creek Pass, to Louis Bacon's Trinchera Ranch in the neighboring San Luis Valley, which the hedge fund operator purchased from the Forbes family late last year. Bacon paid $175 million for 171,000 acres. In other words, for twice the price he got 50x as much land.
Of course as overimprovement goes, nothing can rival Prince Bandar's Hala Ranch in Aspen: 95 acres + a 55,000-square-foot main residence and assorted other structures for $135 million. This one has been languishing on the market since 2006.
Bob Starodoj, president of Mason & Morse Real Estate, was quoted in the Aspen Times as saying that Bandar's land will be tough to sell. "It's a very personalized, specialized property," he said. "I'm not sure what you do with that. My sense is the only guy who's gonna buy it is some guy who's in the same financial stratosphere as Bandar."
The same can be said for the Boot Jack.