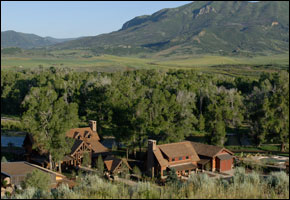 It always amazes me when someone takes the time to go above and beyond the call of duty to improve an already one-of-a-kind piece of property. The idea is to take some great place and make it even more over the top. That is definitely the case at Marabou, a Colorado ranch preservation community just outside Steamboat Springs that was recently honored at the Pacific Coast Builders Conference.

The challenge for Jeff Temple and his investors was to take a spectacular 1,717-acre parcel along the Elk River, preserve it, enhance it, and do all of the above while making a profit. No small task.
"We are constantly sharpening the saw, trying to make the service better, and the overall experience better," says Temple. Many know Jeff from his pioneering success with his brother Jamie at Storm Mountain Ranch. There they used fewer than 40 acres to create 14 homesites on a 1,063-acre parcel just outside Steamboat. The remainder was set aside in conservation easements for wildlife and agriculture. Now Temple is perfecting his craft down the road.
"This weekend we're going to go on a world-class elk hunt with owners and a prospect. That wasn't on the program before, but it is now. We are surrounded by one of the largest elk populations in North America, and some of owners really have dreamed all their lives about being able to get a big elk. It's a lot different than the catch-and-release of the Elk River, and hunting is certainly part of the Western ranch experience."
Temple and his buyers don't hunt at Marabou. They take advantage of the tens of thousands of acres of public lands that surround the Yampa Valley. But it's back at the ranch that he's made his mark.
Marabou's recreational facilities comprise 12 amenity buildings: the River House Lodge, Casting Room Theater, Horse Barn, Equestrian Center, Downstream Spa, Outfitter's Cabin, River's Edge Fitness Center; River's Edge Pool, and four Owners' Cabins. For the amenity building project, TCD of Steamboat Springs was the builder; Denver-based 4240 Architecture was the architect; Braun Associates in nearby Edwards was the land planner; and Elk River Partners of Steamboat Springs was the developer. It was this combination of talents that was singled out in San Francisco at the Pacific Coast Builders Conference where Marabou was awarded a Gold Nugget Award for the Best Public/Private Recreational Use Project.
"Our major challenge was to harmoniously combine themes of ranching, sustainability, and luxury," says Temple. The dozen buildings are all powered by wind energy. "We wanted the amenity buildings to be well-appointed, spacious, and welcoming gathering places for residents, but we also wanted to minimize our impact on the land and wildlife."
The results have been telling. Sales of homesteads, which start at $2.9 million, have been brisk even given the present economy. "So far in 2008, we've sold four homesteads and expect to sell a handful more between now and Christmas. This year, 2008, has been slightly slower but not much. We feel really fortunate. We've recently had a flurry of interest despite the economic news. I think it's because the project is one-of-a-kind. It's really special and unlikely to happen again, at least not in some people's lifetime," says Temple.