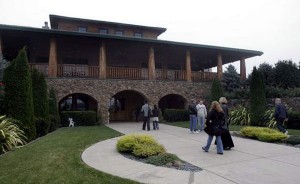 Bidding on Kirkland Ranch Winery closed yesterday at noon. The sealed bid auction started at $22 million for the 69-acre Southern Napa County winery, which includes 45 acres of vineyards. Bidders also had the option to purchase an additional 186 acres of land of which 110 are under vine. The opening bid for the combined properties was $26 million.
The $22 million reserve price is less than half what the winery was valued at when it entered bankruptcy in 2006. According to the Press Democrat, hopes for a more traditional sale faded with the mortgage meltdown and subsequent credit crunch. Braun Auctioneers, the Beverly Group, and International Wine Associates were brought on by the winery to direct the sale.
The Kirkland family built the 57,000-square-foot winery ten years ago. It is permitted to process 200,000 gallons of wine annually, however, it has capability to produce up to half a million cases per year. Its cellar has storage for 3,000 oak barrels. In addition, use permit allows retail sales and public tastings by appointment and up to 74 events annually at its banquet and meeting facilities.