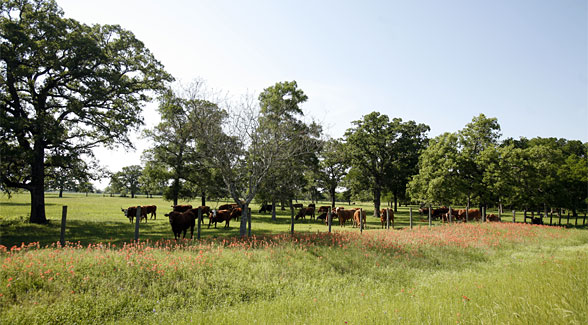 The Texas land market saw bargain hunters staring down unmotivated sellers throughout 2009. The end result, according to Charles Gilliland and Abhijeet Gunadekar at the Texas Real Estate Center, was a dearth of property sales of more than $1 million and the lowest total number of transactions since 1995:
"Most Texas acreage is grazing land with a strong recreational usage element. Markets for that kind of property weakened in 2009 while cropland markets generally continued to prosper. Because pasture and rangeland make up more than 80 percent of the land in Texas, overall market indicators largely reflect conditions in the market for those property types."
The researchers tabulated 4,138 transactions in 2009, the lowest number since 1995. The average price per acre of $2,086 was off just 7 percent from the record high of $2,247 per acre in 2008.
The Texas Real Estate Center is the nation's largest publicly funded organization devoted to real estate research. The Center's staff conducts research on financial, socioeconomic, public policy, trade, legal, land use, and local market analysis issues related to Texas real estate.