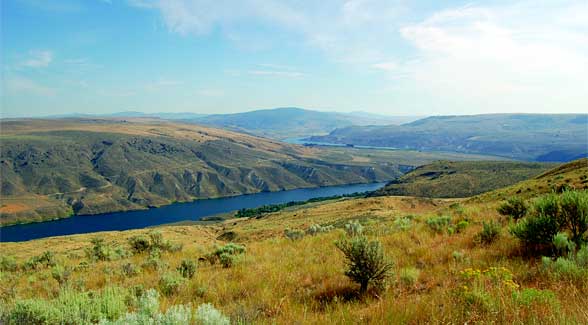 A spectacular 15,548-acre tract on Washington's  Columbia River in Douglas County sold for $5.5 million on September 28. Known as the Hunt Ranch, the original plan was for the family-owned property  to be divided and sold in 31 tracts by J.P. King Auction Company, but it went instead to a single buyer, who stepped up before the bidding began and acquired it in its entirety.
"Since Hunt Ranch was a third-generation family property, we were excited to be able to sell it to a single owner and keep the property intact," said Craig King, president and CEO of J.P. King Auction Company. "Land is a great investment. It will always be in demand, and its availability is decreasing."
Given the historic nature of the impressive parcel, it was a coup for both buyer and seller. "The property is quite diverse," said Rusty Hunt. He and his father had added additional acreage since his grandfather's initial purchase of the property. "It looks over the Columbia River and the Cascade Mountains, and it features everything from flat plateaus to lakes and meadows."
In addition to breathtaking views, the property includes barns, sheds, silos, and two newly remodeled farmhouses. Wheat is currently being grown as the property's principal crop. The ranch also has FSA contracts, which the new owner has the option to maintain, and its abundant wildlife  includes grouse, mule deer, ducks, geese, quail, and dove.