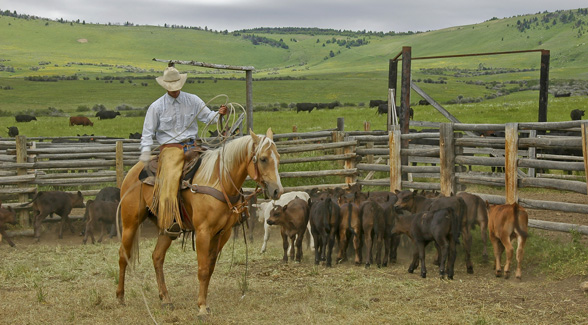 Here are America's priciest properties for March. Dana Ranch, pictured here, is a landmark holding that has had just two owners in the last 95 years and is listed by Dave Johnson with Hall and Hall.
1. Rancho Dos Pueblos: $90 million
This impressive oceanfront parcel is on the market for the first time in three decades. Spanning 2,175 acres just west of Santa Barbara, California, it's one of the largest remaining ranches along the breathtaking Gaviota Coast. The 2,000 northern acres are available separately for $19 million. Kerry Mormann & Associates has the listing.
2. Aspen Valley Ranch: $59 million
Billed as the largest ranch near Aspen in the Roaring Fork Valley, this ranch boasts senior water rights as well as over 800 acres and is located just 10 minutes from the Aspen airport. Joshua Saslove of Joshua & Co. has the listing.
3. Robert Taylor Ranch: $56 million
112 acres in Los Angeles's tony Brentwood enclave. The expansive ranch house, which was designed by Robert Byrd, features 17 bedrooms and 17 bathrooms. Joyce Rey of Coldwell Banker Previews International has the listing.
4. Hana Ranch: $55 million
This 4,500-acre working ranch on eastern Maui surrounds the town of Hana. The property boasts two miles of Pacific oceanfront and rises 2,200 feet up the slopes of majestic Haleakala. Dan Omer of Island Sotheby's International Realty has the listing.
4. Rockpile Ranch: $55 million
At the Rockpile Ranch, the Old West and cutting-edge range management blend seamlessly. For only the third time in over a century, this 55,374-acre cattle ranch in the Davis Mountains of Far West Texas has come on the market. Since 1992, the Rockpile has been owned by McCoy Remme Ranches (No. 51 on the 2010 Land Report 100). James King of King Land and Water is the listing agent.
6. Flying Dog Ranch: $46 million
This Aspen landmark sits on 245 acres that include nearly a mile of Collins Creek and Woody Creek. In addition, the Flying Dog has a great neighbor: the White River National Forest, whose two million acres feature some of Colorado's top fishing and hunting. Lynne Kirchner of Amoré Realty has the listing.
7. Dana Ranch: $45 million
Over the last 95 years, this landmark holding has had just two owners. The Dana Ranch has won numerous conservation awards. The ranch supports 3,000 animal units on 59,000 total acres (45,000 deeded plus 14,000 acres of captive State leased lands). The profitable cattle operation also boasts extraordinary wildlife and fishery resources. Listed by Dave Johnson with Hall and Hall.
8. Craig Ranch: $43 million
This 838-acre ranch sits 20 minutes from Aspen, offers stunning views of the Elk Range, and features one mile of frontage on both sides of Woody Creek. Co-marketed by Mason Morse Ranch Company and Mason Morse Real Estate's Aspen office.
9. Villa Montana: $35 million
Piecing together 500 acres in California's wine country is an achievement in itself, one that only a pro such as Joe Montana could pull off. Included on the Hall of Famer's estate are an equestrian center, a full-sized basketball court, a working olive farm, and a 9,700-square-foot Tuscan-inspired residence. Avram Goldman of Pacific Union International has the listing.
10. Dallenbach Ranch: $29 million
130 deeded acres surrounded by BLM and Colorado Division of Wildlife with Frying Pan River Frontage, Dallenbach Ranch is close to Basalt and Aspen Colorado. The ranch boasts Gold Medal private fly fishing on the Frying Pan with exceptional Elk, Big Horn, Mule Deer and Black Bear hunting. Fay Ranches has the listing.