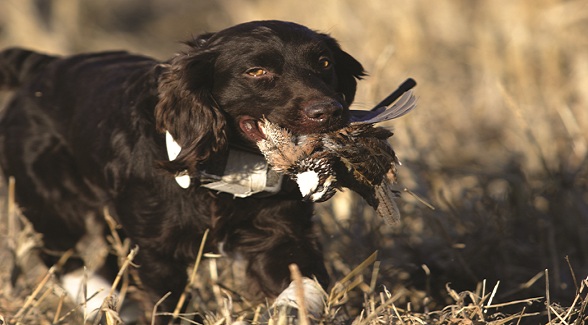 Handsome, talented, and a splendid companion – the Boykin lives up to its rich heritage.
He'll flush your upland game, fetch your ducks and doves, and look great lying on your sofa. No matter where you live, if you're an all-around hunter, you can't go wrong with the Boykin spaniel, the true native gun dog of the Deep South.
Early in the 1900s, a young, medium-sized male spaniel appeared at a Methodist church in Spartanburg, South Carolina. Alexander White, a church member, adopted the dog and immediately noticed its hunting ability. He sent the dog to his hunting partner, Whit Boykin, for training. The sturdy spaniel, most likely some combination of Springer, Chesapeake Bay Retriever, and American Water Spaniel, became the foundation of the modern Boykin spaniel, the official dog of South Carolina.
True to its lineage, the typical Boykin is an excellent water dog, probably the best waterfowl fetcher of the land spaniels. Originally bred to flush turkeys and retrieve doves, the Boykin also takes readily to quail, woodcock, pheasants, and small game. Thanks to its Carolina heritage, your Boykin will have little problem enduring heat and humidity. Yet the dark, dense coat protects against it all but the coldest water.
Do:
– Purchase pups from proven working lines. The Boykin's surging popularity could lead to irresponsible breeding for the pet market.
– Take your pup for field romps as soon as he has received his inoculations.
– Make your Boykin a member of the family.
Don't:
– Don't force your pup into water. Boykin pups will go there naturally.
– Introduce gunfire until your pup is searching boldly.