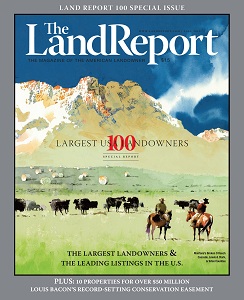 Our most anticipated issue of the year is HERE!
The fall issue of The Land Report is hot off the press, and that means the 2012 Land Report 100 is available for you to peruse and enjoy. Find out which leading landowner donated the largest conservation easement in history to the federal government this summer in Colorado. Learn the story of one of the country's best-known entrepreneurs and the two parks she hopes to establish in Maine. See which Florida family has made cleaning up the Everglades their passion project.
Top it off by getting a sneak peek at the 2012 Land Report Broker Summit, which was held at Boone Picken's Mesa Vista Ranch. So be our guest and enjoy our latest issue HERE.
For more up to the minute reports on listings, auctions, sales, and breaking news pertaining to land and landowners, be sure to follow The Magazine of the American Landowner on Facebook, Twitter, and Pinterest.