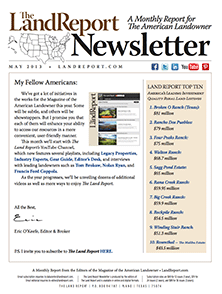 Got time to peruse our May Newsletter?
You'll find a wealth of hard-hitting facts and figures at your disposal, including the latest survey from the Chicago Fed on farmland values in the Midwest. Needless to say, land values in the Corn Belt are continuing to rise at an impressive clip.
Considering an investment in ag land? Then get the lowdown on next month's auction of O'Dell Farms, more than 2,400 acres in Clay County, Missouri, just outside of Kansas City by Hall and Hall Auctions.
Our May Newsletter also brings you the latest on Larry Ellison's multi-million-dollar acquisition of the Pineapple Island in 2012. The Oracle CEO is already changing the face of Lanai – for the better.
For up-to-the-minute reports on listings, auctions, sales, and breaking news pertaining to land and landowners, be sure to follow us on Facebook, Twitter, and Pinterest.