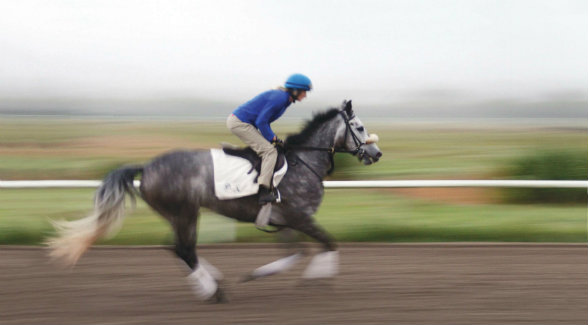 Over the years Virginia Kraft Payson's adventures have ranged from hunting wild game to piloting hot-air balloons, to sports fishing and dog sled competitions.
But the owner of Florida's Payson Park Thoroughbred Training Center in Indiantown is perhaps best known as one of the equestrian industry's most respected Thoroughbred owners and breeders, a passion she began pursuing with her late husband, Charles Shipman Payson, in 1977.
"My involvement in Thoroughbred breeding was a midlife career change," says Kraft Payson, who spent 26 years as a Sports Illustrated journalist.
"I thought that Sports Illustrated was the most wonderful occupation that existed. I traveled all over the world, hunted on six continents, met kings and leaders of countries. It was just a magic carpet that took me everywhere. It turns out my careers have been two magic carpet rides."
The couple first found what is now Payson Park "in a shambles," she says. "It was a disaster in every way. There were cattle running on the property … every wild animal imaginable was there." Since its transformation the list of those who have sent their runners to be trained at the farm include the Aga Khan, Queen Elizabeth, Madeleine Pickens, Kenny Troutt, Tony Ryan, Mahmoud and Moustapha Foustok, and Charles Fipke.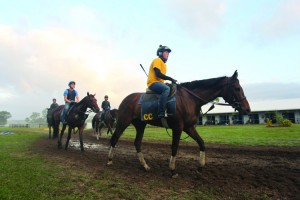 "I met the Queen several times, and was in the paddock with her several years ago and the first thing she asked me was 'How is Payson Park?'" says Kraft Payson.
Champions that have emerged from Payson Park include Travers Stakes winner Carr de Naskra; St. Jovite, 1992 European Horse of the Year; and graded stakes winners L'Carriere, Salem Drive, and Lac Ouimet.
Now her famed Florida horse camp is on the market, listed with The Atlantic Western Companies for $8.95 million.
According to Atlantic Western Broker Brad Scherer, "Payson Park is a strategic tract that has irreplaceable Thoroughbred training facilities, including a one-mile dirt track considered by many to be one of the best training surfaces in North America, a 7/8-mile separate grass track, 499 stalls, and support facilities. Of the top 20 Thoroughbred horses ranked by the National Thoroughbred Racing Association in 2013, seven of these champions trained at Payson Park, led by Orb, winner of the Florida Derby and the Kentucky Derby."
Says Kraft Payson, "The key to the success of Payson Park and the success of the horses trained here, including Orb, has all been related to the track. When we opened we ran one full-page ad in the Daily Racing Form. Horse people knew the value of this track, so we filled every stall for opening season. It's been a source of really great pride to me, but I've had it for three decades plus, and it's time for new ideas and new blood."
Kraft Payson owns an additional 200 acres close to Payson Park on which she maintains a residence as well as a facility for retired racehorses.
She adds, "To me, the racetrack was always my report card for how well I did with breeding and I've produced some wonderful racehorses. Up until 2000 I only bred to race and raced everything I bred. So I will continue the breeding operation. It gets in one's blood and you can't really get rid of it."
RESOURCES
Seabiscuit: Award-winning book & Oscar-nominated film
Horse Racing's Top 100 Moments by Staff of Blood Horse Publications
Secretariat: Award-winning book & film