Don't mistake this bobtailed working dog for a low-born mongrel.
Medieval peasants relied on versatile, workaday dogs to herd livestock and help poach game from feudal masters. Since they paid a dog tax based on the length of the dog from the tip of the nose to the end of the tail, peasants cut costs by cutting tails – or "curtailing." A "cur" was a bobtailed working dog – not a low-born mongrel.
Naturally, settlers from Western Europe brought their curs to North America. Through selective breeding, curs became more tree-oriented as meat- and hide-minded frontiersmen discovered the utility of dogs interested in climbing game.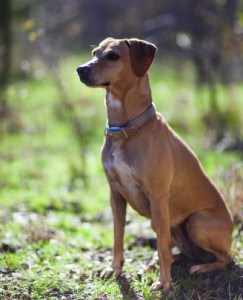 Mountain curs developed along the Southern Appalachian frontier, where they treed squirrels, opossums, bears, raccoons, and anything else that could be eaten or profitably skinned, gathered semi-feral swine, and boiled from beneath porches to take on threats to stock pens, gardens, and henhouses.
After World War II the type nearly disappeared. Fortunately, a few survived in the remotest reaches of the Mountain South until the 1950s, when devotees formed the Original Mountain Cur Breeders Association to preserve and strengthen the breed.
Well-bred pups train easily and possess keen prey drive and treeing instinct. Most retrieve readily from land and water.
Do:
Make your pup a member of the family. Mountain curs form extremely tight bonds.
Take your pup on romps in the woods as soon as she has finished her vaccinations.
Don't:
Expect an uninitiated adult cur to distinguish between a house cat and a bobcat. Socialize your puppy, or she'll want to kill Tabby.
Allow children to roughhouse with your puppy.