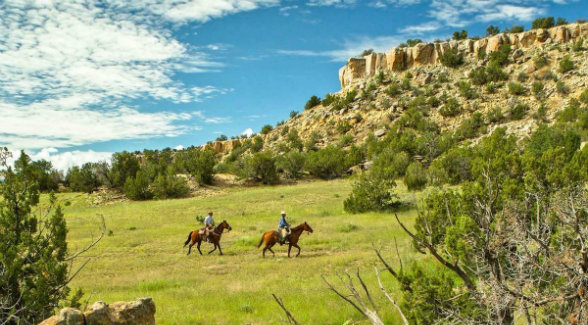 Stretching 53 miles east to west and 26 miles north to south, New Mexico's Great Western Ranch is one of the largest single landholdings available in the United States today. As a true, four-season ranch spanning 457 miles, this ranch offers a variety of wildlife, exceptional habitat, diverse topography, a favorable ecosystem for cattle and a large resident herd of prized bull elk.
Located in Quemado, New Mexico, the Great Western features expansive park-like rangelands, with abundant native grasses and a moderate climate, support cow-calf and yearling cattle operations. Extensive livestock water resources developed on the property include 56 wells – most of which are solar powered – and seasonal ponds, lakes and dirt tanks.
Home to a large resident elk herd, as well as plentiful mule deer and pronghorn antelope, this ranch also supports a revenue-generating hunting operation known for its trophy-sized bull elk. The diverse terrain offers a variety of hunting experiences from ruggedly adventurous to hunts for all ages and experience levels.
The ranch is also rich in history, from the Anasazis and Spanish explorers to the early homesteaders and the ranchers of today. On the ranch there are historical and archaeological sites, including Anasazi petroglyphs, ruins, and the tumbled-down stone homes and corrals of New Mexico's earliest homesteaders.
Click here for a video tour of the Great Western Ranch.
The Great Western Ranch is listed for $59,500,000. Contact Jeff Buerger with Hall and Hall for additional information.