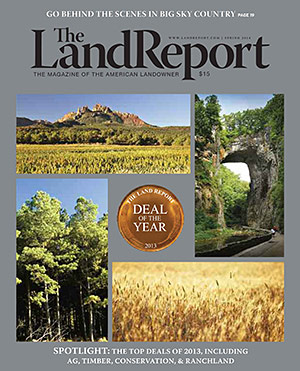 2013 was a year of superlatives: billion-dollar acquisitions, record-setting prices, and landmark sales. And behind the best of these deals one finds the stories of passionate landowners, men and women and families who went to extraordinary lengths to assemble, to nurture, and to steward each of these treasures.
We are proud to single out the 2013 Deals of the Year in the Spring 2014 issue of The Magazine of the American Landowner:
The 2013 Land Report Deal of the Year: The Natural Bridge (Virginia)
The 2013 Agriculture Deal of the Year: Hager Farm & Ranch (Kansas)
The 2013 Conservation Deal of the Year: Trees Ranch (Utah)
The 2013 Ranchland Deal of the Year: Camp Warren Oates (Montana)

The 2013 Timberland Deal of the Year: MeadWestvaco Southern Timberlands (Alabama, Georgia, South Carolina, Virginia, West Virginia)
Congratulations to all those who participated in each of these epic transactions!