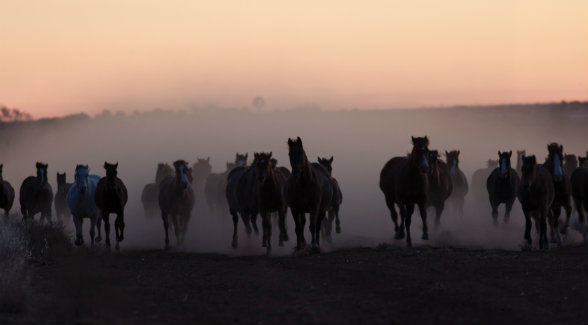 Take a tour of a matchless Texas tradition: stewarding the land, generation after generation. No matter how much land you own or how much you aspire to own, these are priceless lessons to be learned and shared. 
No. 1 King Ranch Heirs
911,215 acres
In 2015, King Ranch Inc. marks its 162nd year of continuous operations. While remaining true to the iconic ranching heritage begun by Captain Richard King so long ago, King Ranch has continued to prosper due to a broad diversification and growth into other land-based, agricultural production-focused businesses.
King Ranch celebrates the 100th anniversary of the Main House on the Santa Gertrudis Division this year. The Main House replaced the two-story wooden homestead that burned to the ground in 1912. Mrs. King's grand new Mission-style home served as the family residence and ranch headquarters. To this day, the Main House remains the primary family residence on King Ranch and stands as a tribute to seven generations of private ownership. The Main House and Ranch have been designated as a National Historic Landmark by the Interior Department and a Texas Historical Monument by the State of Texas.
No. 2 Briscoe Family
560,000 acres
Like so many First Families of Texas, the Briscoes enjoy a legacy of service. During the Texas Revolution, Andrew Briscoe served as a captain at the Battle of San Jacinto. His descendants have been similarly distinguished. Cattle rancher Dolph
Briscoe Sr. (1890-1954) fueled the family's fondness for land. His son, two-term Texas governor Dolph Jr. (1923-2010), grew the family's holdings along with its ranching operations, which are based out of Uvalde and spread out over nine Texas counties.
No. 3 W.T. Waggoner Estate
535,000 acres
Dan Waggoner (1828-1902) established the Waggoner Ranch in 1849. His son, W.T. (1852-1934), expanded it. Today, the Waggoner Ranch is managed by codirectors A.B. "Buck" Wharton and Gene Willingham. The two oversee the massive cattle operation, a horse breeding program, crop production, and more. For a more in-depth look at this historic holding, which is currently on the market for $725 million, read Henry Chappell's "The Bold Brand." And to learn more about the great Waggoner stallion Poco Bueno, click here.
No. 4 O'Connor Heirs
500,000 acres
Tom O'Connor was born in County Wexford, Ireland, in 1819, left for Texas with an uncle in 1834, and, when he passed in 1887, bequeathed an estate valued at $4.5 million, including 100,000 head of cattle and more than half a million acres of prime Coastal prairie. His eldest son, Dennis Martin (1839-1900), inherited his father's ranching operation – and expanded it. The family's quest for water led to the development of one of the state's most productive plays, the Tom O'Connor Field.
No. 5 Hughes Family
390,000 acres (up 17,000 acres)
The Hughes family enjoys decades' worth of oil and gas know-how, and they've invested a portion of their profits in land. The majority of it is used for cattle ranching, grazing, and hunting leases. But their talents are also put to the greater good. Dan Allen Hughes Jr. has served as a commissioner and, subsequently, as chairman of the Texas Parks and Wildlife Commission, and he also serves on the advisory board of the Borderlands Research Institute for Natural Resource Management at Sul Ross State University in Alpine.
No. 6 Malone Mitchell 3rd
384,000 acres
In 1985, this Oklahoma State graduate founded the precursor to SandRidge Energy (SD). Over the next two decades, he built it into one of the largest privately held energy companies in the U.S. As SandRidge grew, Mitchell's attention turned to his West Texas roots where he resurrected the Longfellow Ranch and returned it to its place as one of the best-known brands west of the Pecos.
No. 7 Nunley Brothers
301,500 acres
Seven decades have passed since Red Nunley took up ranching near Sabinal. Beginning with a small steer operation, Red went on to establish one of the largest cow-calf operations in Texas. Along the way, he partnered with Dolph Briscoe Sr. to incorporate Santa Gertrudis genetics from King Ranch into his beeves. Today, Nunley Brothers Ranches is run by Red's grandsons Bob and Richard. The brothers partner on ranches spanning from South Texas to the Texas Hill Country and across the Trans-Pecos to Alpine.
No. 8 Jeff Bezos
290,000 acres
Few people are aware of the fact that Amazon.com's CEO grew up spending his summers on his grandfather's South Texas ranch. No wonder Bezos bought the 290,000-acre Corn Ranch just down the road from Guadalupe Mountains National Park. But Bezos is no cattleman. He uses his 450-square-mile rancho</> for his private aerospace firm, Blue Origin.
"The team at Blue Origin is methodically developing technologies to enable human access to space at dramatically lower cost and increased reliability, and the BE-4 (rocket engine) is a big step forward," Bezos said in a statement to the press earlier this year.
No. 9 Kokernot Heirs
278,000 acres
Among the most storied ranches in Far West Texas, the o6 brand was registered as early as 1837. It was purchased by John Kokernot in 1872, who, with his brother Lee, began grazing cattle on open range west of the Pecos. In 1912, Lee's son, Herbert Lee Sr. (1867-1949), began to piece together the immense property now know as the o6 Ranch and the Leoncita Cattle Company.
No. 10 Anne Marion
275,000 acres
The only daughter of "Miss Anne," Ms. Marion is president of Burnett Ranches, which owns the Four Sixes Ranches. Her great-grandfather, Samuel "Burk" Burnett, founded the ranch in 1868. Numerous rumors have sprung up about the 6666 brand, including a tale involving a winning poker hand. The truth is that the pioneering rancher bought 100 head of cattle from Frank Crowley, and every one of them wore the 6666 brand.
Download the 2015 Texas Special issue HERE.