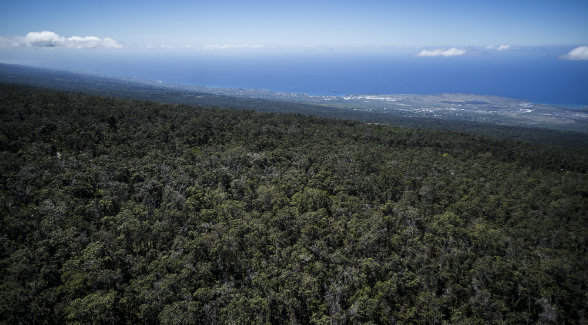 The land, located in the Kaawaloa Forest between 2,300 and 4,300 feet in elevation, is rare native wet forest with a diversity of indigenous plants, trees, and birds, says Greg Hendrickson, real property administrator for the Pace family, which owns the Hokukano Ranch where the easement is located. The family has agreed to a $3.2 million conservation easement with Hawaii Department of Land and Natural Resources. The US Forest Service's Forest Legacy Program will provide funding.
According to a Department of Land and Natural Resources spokesperson, the Pace family donated more than 25 percent of the total property value to the easement purchase. "The primary goal is to eliminate subdivisions and development," Hendrickson says. "Kaawaloa is the next piece in creating a nice network of properties under sustainable management." The Kaawaloa easement will connect the Heritage Ranch tract with the state's Onouli Forest to the north and create an unbroken swath of protected land extending 50 miles south to Hawaii Volcanoes National Park.
Click here to read more.