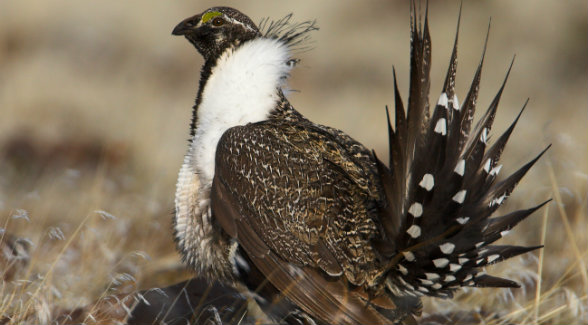 Land management plans to affect public lands in 10 Western states.
The Bureau of Land Management and the US Forest Service released final environmental reviews for proposed land use plans to conserve greater sage-grouse habitat and support sustainable economic development on portions of public lands across the West. The land management plans, developed in partnership with the states and with input from local partners, will benefit wildlife, outdoor recreation, ranching, and other traditional land uses that rely on a healthy sagebrush landscape.
"The West is rapidly changing — with increasingly intense wildfires, invasive species, and development altering the sagebrush landscape and threatening wildlife, ranching, and our outdoor heritage," says Interior Secretary Sally Jewell. "As land managers of two-thirds of greater sage-grouse habitat, we have a responsibility to take action that ensures a bright future for wildlife and a thriving western economy. Together with conservation efforts from states and private landowners, we are laying an important foundation to save the disappearing sagebrush landscape of the American West."
Read more HERE.