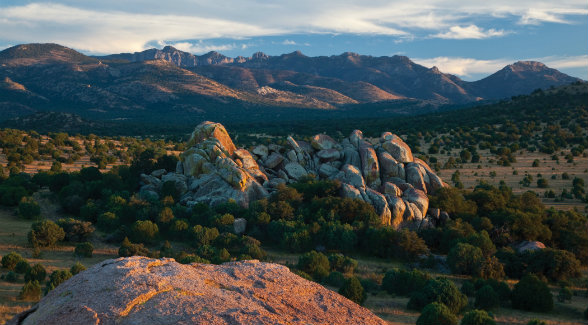 Text by Katy Richardson | Photography by Laurence Parent
Drive toward the Davis Mountains in Far West Texas, and you'll be treated to some of the most jaw-dropping scenery in the Lone Star State. Some of the best views are along the Scenic Loop, which shows up on maps as Highway 166. That's the picturesque stretch from which you can see the iconic Rockpile Ranch, which has been owned by just three families since Texas was settled. Only three, that is, until just recently.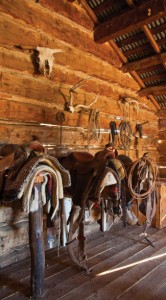 After an extensive search by its then owners, the McCoy-Remme family of San Marcos, James King of King Land & Water was charged with marketing the ranch in 2010. After four years, the historic Texas holding sold to its next steward, the J.L. Davis family.
At 55,704 acres, the Rockpile is rich in history and habitats, making it a remarkable property on a grand scale. Located west and north of the University of Texas McDonald Observatory, the ranch is situated in one of the few ecological sky islands of Texas and the Chihuahuan Desert. The flora and fauna that thrive in its varied ecosystems are rare and remarkable.
With elevations ranging from 4,500 to 6,907 feet, the Rockpile features micro-climes that vary across the ranch. The fact that this historic holding lies on the edge of two critical North American migratory avian flyways enhances its biodiversity.
Thanks to years of excellent stewardship by the McCoy-Remme family, which ranked No. 55 on the 2014 Land Report 100 (see "Emmett McCoy," The Land Report Summer 2012), the Rockpile has retained its rich grassland landscape.
"It honestly looks like a movie set because it really hasn't been developed beyond straight cattle country. They did such a good job with range management," says Michael Davis of the Davis family, who acquired the ranch in 2014.
Over the last two decades, the McCoy-Remme family carefully managed the diverse forage of gramma and bluestem pastures and grazing lands using a structured forage assessment and grazing management system that resulted in exceptional rangeland health and species diversity. With some of the best cow-calf rangeland in Far West Texas, the Rockpile has a well-positioned water distribution system that includes solar-driven wells.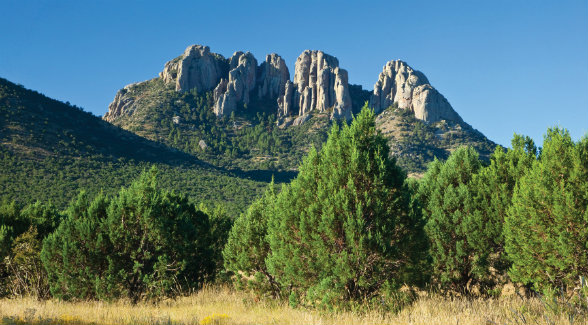 In addition to its singular environmental and wildlife qualities, the Rockpile is awash in history. Named for the massive geologic formations located at the entrance to the ranch, it was once part of the legendary X Ranch that spanned 380,000 acres. The ranch also features views of Sawtooth Mountain (pictured above), a rugged series of spires jutting hundreds of feet above grassy pastures. Both Sawtooth Mountain and the rockpile formations have drawn humans for millennia. Remnants of pre-Columbian habitation, such as mortars used for grinding grain, have been found in numerous locales on the ranch.
These singular attributes make the Rockpile a standout property and necessitated a particular breed of agent.
"We conducted a wide-ranging national search for the best broker to represent the McCoy-Remme family in this sale, inviting the finalists to travel the ranch with the owners. It was during that ride with James King that we realized his genuine appreciation for the range management that had allowed cowboys to maintain the herds during our low-moisture periods while discussing how he would highlight the value of the topography and the unique flora of the ranch. We never expected to find the best broker right there in Fort Davis," says John Meeks of McCoy Corporation.
"The Rockpile Ranch fits into a larger conservation landscape of private landowners who want to keep sizable ranches from being subdivided," says King. "With patience and hard work by all, the ranch is now in the hands of the next generation of owners, and they have already begun the work of continuing to improve the wildlife and grazing resources that they inherited from years of outstanding management by the McCoy-Remme families."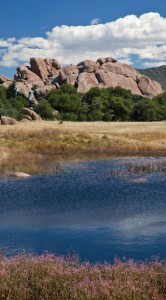 Adds Brian McCoy, "With our desire to keep the Rockpile intact, we were very excited to sell to the Davis family – an ideal owner. The Rockpile is such a beautiful ranch, especially if it gets a little rain. My brother-in-law, Kaare Remme, co-owner and managing partner of McCoy-Remme Ranches, works hard to maintain excellent range conditions on all of our
family properties."
The Davis Mountains receive more rain than most expect. "If you see it after the rains, it turns into Ireland," says Michael Davis, who also credits James King with helping bring the deal to fruition. "I think he was instrumental."
And because the right seller and the right buyer connected, the Rockpile remains much as it was in the 1800s: a true Texas working cattle ranch.
"It's where cowboys come to work, still roping and dragging. Nothing has changed much in this vast mix of grasslands, mountains, cows, and wildlife," says King. "I'm honored to be part of the changing ownership and the legacy of the families at Rockpile Ranch and their commitment to the Davis Mountains."
Rockpile Ranch | Texas
Seller: McCoy-Remme Ranches
Listing Agent: James King, King Land & Water
Buyer: Davis Rockpile Ranch, LLC
Buyer's Agent: James King, King Land & Water