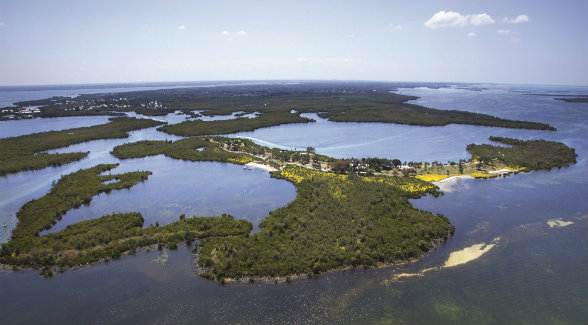 Mark and Cindy Pentecost buy the104-acre Florida island for $14.5 million.
What's not to love about your own private island? Especially if it happens to be ideally situated off the Gulf Coast of Florida between Naples and Sarasota. Yet it took three years to market 104-acre Little Bokeelia Island. The one-of-a-kind property, which was listed with Klaus Lang of Michael Saunders and Company in Sarasota, sold this summer for $14.5 million in cash to Mark and Cindy Pentecost, the founders of Florida-based It Works!
As with many unique properties, a meeting of the minds required considerable time and effort. The Tampa Bay Business Journal reports that Little Bokeelia first came to market in 2012 when it was listed for $29.5 million. The Pentecosts took notice and put in an offer, but it wasn't accepted. In 2014, the price was reduced to $24.5 million, yet no takers emerged. Earlier this year, it was announced that all serious offers would be accepted.
Lang recalled the Pentecosts' interest in Little Bokeelia, and he contacted the couple's broker about making another offer. The Pentecosts were interested and turned out to be one of five bidders on the island. Theirs was not the highest bid. Then again, price is not always the deciding factor.
Of far greater importance to the sellers, Tom and Liz Munz, was the Pentecosts' ability to close quickly. At the end of June, they accepted the Pentecosts' offer, and a contract was signed; two weeks later, the sale closed on July 15. The final price was more than 50 percent below the original listing price.
Little Bokeelia becomes the most recent addition to the Pentecosts' portfolio of distinctive properties in the Sunshine State. They also own the Stoneybrook Golf Course in Bradenton, which was designed by renowned golf course architect Arthur Hills. Their other major holding is a 1,000-acre ranch in Myakka City, which is located in Manatee County. All three of these recreational tracts are used to entertain corporate guests as well as to facilitate company meetings and as a motivational incentive for sales team members at the Pentecosts' company.
According to Inc., It Works! is a direct sales company that markets beauty, wellness, and weight loss products. It Works! Global has thousands of independent direct-selling distributors in the U.S., the EU, and Australia. The Pentecosts founded the company in 2001 with a single product: the Ultimate Body Applicator, which was created by product development specialist Luis Mijares.


In recent years, It Works! has seen exceptional growth. In 2011, it was ranked No. 720 on the Inc. 5000. The following year, it jumped to No. 662. In 2013, the company moved up to No. 436, and last year it was ranked No. 290.
In a recent interview in the Tampa Bay Business Journal, Mark Pentecost reported that It Works! had revenues of $538 million in 2014 and was on track for revenues of $700 million in 2015.
The Pentecosts relocated It Works! from Michigan to Florida in 2011 and chose Bradenton as the site of their new corporate headquarters. The company's Stoneybrook Golf Course is just minutes away, and the corporate ranch is less than an hour's drive. And Little Bokeelia? It can only be reached by boat or by helicopter.
"The island is just special," Mark told the Tampa Bay Business Journal. "There won't be anyone who goes there, I don't think, that won't just totally relax."