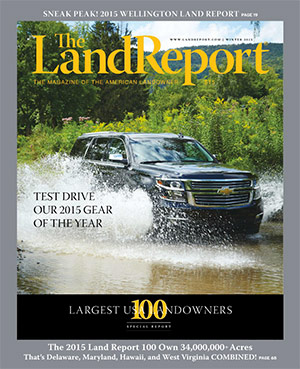 It's HERE! The Winter issue of the Magazine of the American Landowner featuring the 2015 Land Report 100. Find out which landowning family added more than 500 square miles to their holdings. See where Jeff Bezos moved his Blue Origin, his commercial space transportation launching operations. (Here's a hint: It's no longer on his 290,000-acre Texas ranch.) And get a first look at Ted Turner Expeditions, an unparalleled ecotourism opportunity in New Mexico on Turner's 588,000-acre Vermejo Park, 360,000 Armendaris Ranch, and 156,000-acre Ladder Ranch.
Other great reads include:
The Land Report 2015 Gear Guide
The 2015 Wellington Land Report
The sale of Little Bokeelia Island for $14.5 million
Clemson's innovative Timberlands Legacy Program
Read all of these and more HERE.