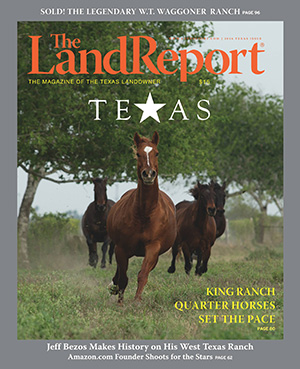 The Land Report 2016 Texas issue is now available. It's time to think big!
Our Texas issue features an in-depth cover story on King Ranch Quarter Horses. Henry Chappell and Wyman Meinzer have crafted a compelling profile of this historic endeavor in the heart of the Wild Horse Desert.
The Land Report 2016 Texas issue also presents the Texas 10: a look at the largest landowners in the Lone Star State.
Coverage also includes a first look at the sale of the 510,527-acre W.T. Waggoner Ranch to Stan Kroenke. This transaction marks the first sale of the DDDs since its founding in 1849.