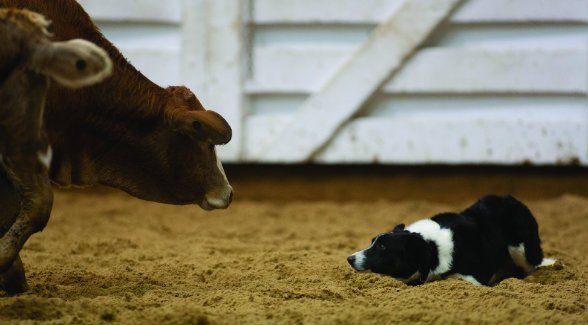 A two-year-old border collie named Jake rewrites the record books at the Western Bloodstock Select Cowdog Sale in Fort Worth.
Text & Photography by Russell Graves
Watch him as he works the livestock," says Roy Cox. A beautiful border collie named Walker casts back and forth across an Oklahoma pasture, inching a small herd of Angus cattle forward. Roy's commands to Walker are soft, almost relaxing.
"The whole time the cattle are moving, the dog stays calm. More important, the livestock stays calm," he says. Spooked cattle are stressed cattle. Stressed cattle lose weight; lost pounds means lost dollars.
An Australia native, Cox, 56, moved to Texas in 1979 to train cutting horses. In short order, he was running cattle on his own place in Southern Oklahoma. Back home in Australia, the Cox family used cattle dogs on their dairy farm near Buchanan in New South Wales. Not surprisingly, Roy began training one for his own use.
It wasn't long before Cox realized that he was on to something. Cowmen like himself are always in need of a good hand, especially one with impeccable training and a rock-solid work ethic. Soon he began to train cowdogs full-time. That was more than 30 years ago, and he couldn't be happier about his decision.
"I'm a blessed man because I live my hobby everyday," he says. "I love what I do. When you work with a dog and you witness the moment he finally understands his own ability, it's a wonderful thing."
At first, Cox bred and trained cowdogs. Now he only trains them. The process of socializing puppies, he says, proved too time consuming. Instead, he has concentrated on working with dogs sent to him by clients from across the country.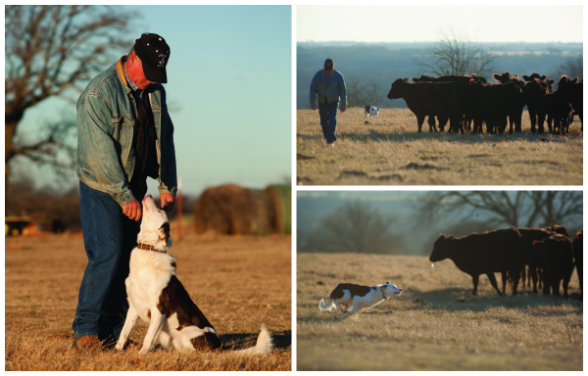 One of his current charges is the beautiful red-and-white border collie pictured above. Walker is an eager cowdog who belongs to a Utah rancher. The three-year-old has been under Cox's tutelage at his cowdog boot camp outside of Ringling, Oklahoma.
The process is a simple one. For several weeks Cox works with a dog on various drills. Simultaneously, he monitors its disposition to ensure it is on track to be as good a family dog as it is a cowdog. It's a steep challenge, but the Aussie has a deft touch and the requisite patience.
Cox and his charges develop a bond that borders on miraculous. This gift was on full display at the 2015 National Cutting Horse Association (NCHA) Futurity Sale last December in Fort Worth. In the middle of a weeklong series of horse sales, Western Bloodstock held a select cowdog sale.
"The NCHA wanted something a little different. Some entertainment," says Cox. "So we had the idea to have a low number of quality dogs and have them show the crowd what they could do."
One at a time, four professionally trained cowdogs followed their trainers into the W.R. Watt Arena. Each proceeded to work ten head of cattle. Then the degree of difficulty was upped to 40 head. Following the demonstrations, all four went on the block. The results were nothing short of stunning.
The four averaged more than $15,000 each – considerably more than the horses that preceded them. The top dog was a Roy Cox-trained border collie named Jake. The two-year-old fetched a record-setting $27,500. The buyer was Bobby Patton Jr. of Fort Worth, co-owner of the Los Angeles Dodgers and proprietor of New Mexico's 174,000-acre York Ranch.