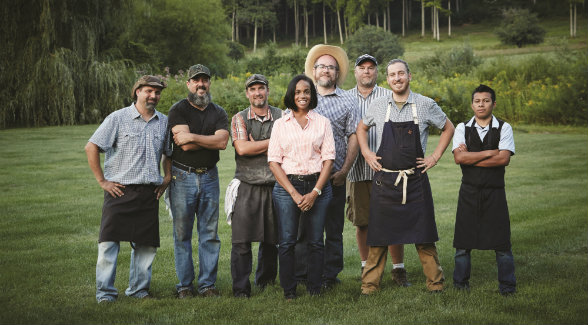 The hills and the glens of Western New England are teeming with rabble-rousers, scores of restless souls who have opted out of the status quo. Do not mistake them for foodies; their ambition goes well beyond sating their palates, or yours. Instead, their focus is the genesis of the food chain: the land. Their goal? To revolutionize their experience at the table, and at yours.
One Jeremy Stanton has been identified as a primary instigator. It is said he runs a butcher shop in Great Barrington called, of all things, The Meat Market. But as the following pages document, he and his cohort at Fire Roasted Catering are capable of operating to great effect both far and wide.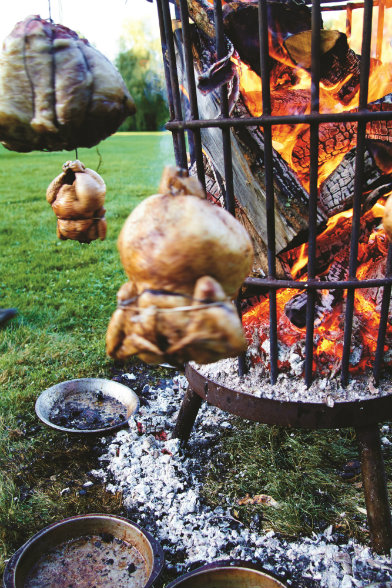 Although he once donned a chef's jacket and has the requisite degree from the Culinary Institute of America, Jeremy Stanton no longer prepares classic French fare. Or Italian. Or Asian. Gone are the days when terms such as chef de cuisine and amusebouche pepper his conversation. Instead, Stanton has returned to his roots in the Berkshire Mountains of Western Massachusetts, a setting he informs me was considered America's bread basket during the colonial era. In the nineteenth century, sheep replaced wheat as Berkshire wool gained renown. Today, small farms and dairies dot the land once again. They are his larder, and their owners his collaborators.
Stanton lionizes his vendors, a network of farmers, cattle raisers, cheese makers, and pork producers who share his commitment to nurturing the land traditionally. "They get so many pounds off such small tracts. And they don't take short cuts like using chemical fertilizers. They do things like compost excess waste," he says.
The end result is a sophisticated form of foraging. "We just catered a wedding in Portland [Maine], and we sourced all the produce from within two miles of the venue," Stanton says. "You can sense the difference. It's more than just flavor. It's the land."
It is this hyper-local dynamic that distinguishes his current culinary mind-set from the days of yore.
"So much of what we do is a balance, a balance of what's in the soil with a myriad of elements, including the water that is used to grow the produce, the grains, and even the beer brewed here. Water is so full of things that will impart different characteristics," he says.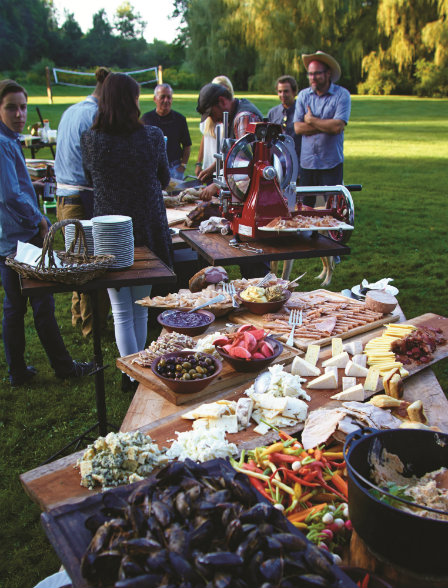 Another critical element is, of course, fire. Given the company's name – Fire Roasted Catering – it comes as no surprise that Stanton continually sources hardwoods for use at his events. "It's another opportunity to play with the elements of nature," he says.
"Different woods can be used to create entirely different outcomes. Ash, maple, oak, hickory, locust – every piece of wood we use has a different BTU level. And then there is the height of the flames themselves. Are we searing, charring, or roasting? I'm always recalculating. To me, it's a puzzle to be solved," he says.
Stanton has transformed a potential drawback – a firewood quarantine associated with an Asian beetle known as the emerald ash borer – into an opportunity. "Since we can't transport firewood across county lines, we must source local hardwoods to cook. What an ideal solution," he says.
For a larger event such as a wedding, Fire Roasted Catering arrives anywhere from six to eight hours in advance. Smaller gatherings require three to four hours of work on-site. This summer marked the first time that Fire Roasted Catering was booked to put on a first anniversary celebration.
"We actually catered the couple's wedding, but they were so mobbed by family and friends that they never got to try anything. So since everyone raved about how good it was, they thought they should find out for themselves," Stanton says.
Resources
Fire Roasted Catering | www.fireroastedcatering.com
The Meat Market | www.themeatmarketgb.com