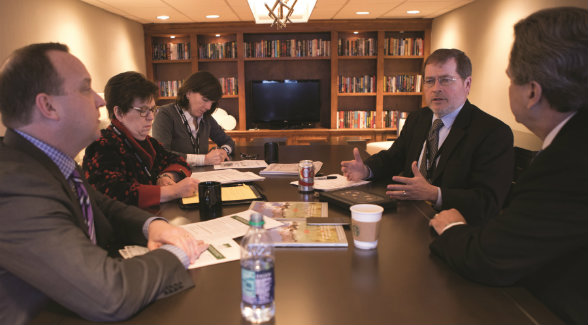 Congress considers eliminating this essential tax tool for landowners.
Text by Eric O'Keefe | Photography by Jason Walsmith
Grover Norquist is bullish on the prospects for passage of tax reform legislation this year. However, the founder and president of Americans for Tax Reform is sounding an alarm on the potential repeal of one of the most valuable tools available to those who invest in land and real estate: the I.R.C. Section 1031 like-kind exchange. Norquist tells The Land Report that "1031 is endangered."
First enacted in 1921, the like-kind exchange has served as one of the single greatest wealth-building tools available to real estate investors by providing a simple tax-deferral mechanism for asset sales such as land.
Current discussions on tax reform can be traced back to the House Republican Blueprint, which was released in 2016 by the all-important House Committee on Ways and Means.
According to Norquist, with the election of Donald Trump and the Republicans now controlling both houses of Congress, "if anything is certain in this world, tax reform will pass this year."
"We now have the stars aligned with a Republican House, Republican Senate, and a vehicle, reconciliation, which only requires 50 Republican votes plus the Vice President," Norquist says.
The legislative outcome is quite clear: "Tax reform will pass … sooner rather than later," says Norquist. "We're not discussing something that's theoretical. It is close to a level of agreement, closer than it appears from the outside."
Although tax reform may be a certainty, many of the particulars of legislation are still being hammered out. Given his status as a thought leader in tax policy, Norquist has heard from large numbers of stakeholders. Many insist that Section 1031 like-kind exchanges must stay in the Internal Revenue Code. Norquist agrees.
Norquist says "There is time and a good argument for either restoring or maintaining 1031, particularly on the land basis. People who know about the power of Section 1031 from their own experience need to communicate with their congressman, senators and the Trump administration as soon as possible. It [tax reform] is happening and there is no time to waste."
Without Section 1031 as a vehicle to defer capital gains taxes, landowners will be especially disadvantaged. To make matters worse, in addition to the possible elimination of the Section 1031 exchange, the House Republican Blueprint imposes a double whammy on landowners with its call to eliminate the net interest expense deduction.
In return, the Blueprint proposes an allowance of immediate expensing for real property improvements (but not land). Many Blueprint proponents assume that lower rates and immediate expensing make up for the elimination of Section 1031 and interest deductibility. This assumption is a mistaken one; it overlooks the tremendous value of the land.
According to commercial REALTOR surveys, land accounts for 30 percent of the value of improved real property and can account for 80 to 100 percent of agricultural and recreational land. If landowners have no tax deferral vehicle, the lock-in effect will be dramatic. Instead of improving or upgrading farming and ranching operations, or streamlining existing holdings by consolidating tracts, many landowners will simply elect not to sell.
The whole point of tax reform is to encourage growth, which is precisely what Section 1031 accomplishes. A 2015 Ernst & Young macroeconomic study concluded that a repeal of Section 1031 would result in a contraction of GDP equal to $8—$13 billion per year. A diverse coalition of 91 associations have called on Congress to retain Section 1031. That group includes nearly every REALTOR-affiliated group, Farm Bureau and associated farm groups, conservation groups, manufacturers, and the US Chamber of Commerce.
Says Norquist, "The bus has already left concerning some parts of tax reform. We're not there on 1031. It need not be left off the table, and there are strong arguments for keeping it that Republicans can and do understand. We don't want to be making capital gains taxation more onerous in any way. It's a principled argument we're making on 1031, not simply an industry-specific or regional issue. They will throw a lot of babies overboard in order to make [tax reform] float. We want to make sure 1031 is not one of those. People who recognize from their own experience the importance of 1031 should communicate with and inform their congressmen."
To express your support for the retention of Section 1031, please reach out to your elected representatives. Alternatively, you can email a message to them directly by visiting www.1031taxreform.com/take-action.