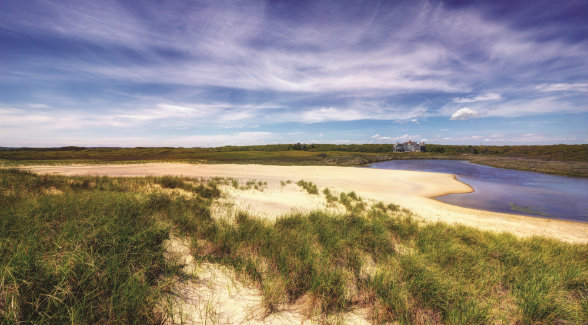 Big ranches, big resources, and big views dominate the nation's leading listings. – The Editors
1. Sandow Lakes Ranch (Texas): $250 million
This 33,777-acre acre Central Texas property is being sold by Alcoa. Bernard Uechtritz of Briggs Freeman Sotheby's International Real Estate has the listing.
2. Gemini (Florida): $195 million
This nearly 16-acre South Florida compound, which is owned by the Ziff family, features 1,200 feet of Atlantic Ocean frontage and about 1,300 feet on the Intracoastal Waterway. Carmen D'Angelo Jr. of Premier Estate Properties is co-listing agent.
3. Las Varas Ranch (California): $108 million
These 1,800 acres just west of Santa Barbara encompass more than 2 miles of Pacific Ocean frontage. Listed with Kerry Mormann of Berkshire Hathaway HomeServices and Anthony Punnett of Douglas Elliman Real Estate.
4. Cielo Vista Ranch (Colorado): $105 million
Thousands of elk, a resident herd of bighorn sheep, and deeded ownership of 14,000 acres are a few high points of this 83,628-acre Sangre de Cristo ranch. Listed with Jeff Hubbard and Pat Lancaster of Mirr Ranch Group.
5. Pumpkin Key (Florida): $95 million
This 26-acre island in the Florida Keys sits between Key Largo and the mainland. Improvements include a main residence, two caretaker's cottages, a dock master's apartment, and an office. Accommodations and dockage at Ocean Reef transfer. Russell Post of Russell Post Sotheby's International has the listing.
6. Homer's Pond (Massachusetts): $88 million
This private retreat (pictured above) is set on 314 acres along the southern shore of Martha's Vineyard and is available in its entirety or in smaller parcels. Grace Bloodwell and Charles Carlson of South Light Property have the listing.
7. Rancho San Carlos (California): $85 million
This 237-acre hilltop estate is perched high above the Pacific in Montecito. Ten residential cottages complement the Reginald Johnson-designed main residence. Suzanne Perkins and Harry Kolb of Sotheby's International Realty Santa Barbara the listing agents.
8. Elk Mountain Lodge (Colorado): $80 million
Bill Koch's Aspen estate sits on 83 acres just minutes from the mountain resort. The property (pictured above) is available in its entirety or in smaller parcels, each with its own home. Listed by Joshua Saslove, Raifie Bass, and Wendy Wogan of Douglas Elliman Real Estate.
9. Winecup Gamble Ranch (Nevada): $77 million
This storied commercial beef operation currently carries 9,200 mature cattle, not counting 2016 calves. The Marketing Broker is Bates Land Consortium, and the Listing Broker is Coldwell Banker Algerio/Q-Team Realty.
10. Sycamore Valley Ranch (California): $67 million
After two years on the market at $100 million, Michael Jackson's Neverland Ranch gets a new broker and a new price. Joyce Rey of Coldwell Banker Previews International has the listing on the Jackson estate.