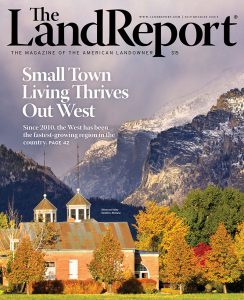 Go West! According to the Census Bureau, more and more Americans are moving out West. Hence, the focus of this special issue. In addition to a closer look at this compelling demographic trend, our Rockies special issue also feature these great reads:
The Price of Popularity: Western landowners alleviate deadly drought
The Best of the West: landmark listings on the market today
BLM to Move HQ: key federal agency to relocate to Grand Junction
Stewardship in Action: tour the Four Daughters Land and Cattle Co.
For up-to-the-minute reports on listings, auctions, sales, and breaking news pertaining to land and landowners, be sure to follow us on Facebook, Twitter, Pinterest, and Instagram.