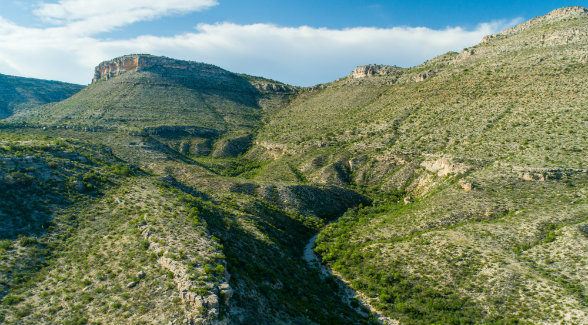 A 420,000-acre collection of ranches assembled over decades, BREWSTER RANCHES is the new national No. 1. — The Editors
1. BREWSTER RANCHES | $319.2 MILLION
NEW! This massive assemblage of 420,000 acres in the Big Bend country of Far West Texas consists of five major ranches available singly or as a mega ranch. Listed with King Land & Water.
2. GATEWAY CANYONS | $279 MILLION
Discovery Channel creator John Hendricks's 6,900-acre West Creek Ranch on the Colorado–Utah line is being offered in conjunction with his adjacent 72-room full-service resort, Gateway Canyons. Kerry Endsley with LIV Sotheby's International Realty has the listing.
3. MESA VISTA RANCH |  $220 MILLION
REDUCED!  The trustees overseeing Boone Pickens' 100-square-mile Texas Panhandle sanctuary have reduced its price by $30 million. (read here for complete details.) Listed by Monte Lyons of Hall and Hall and Sam Middleton of Chas. Middleton and Son.
4. SOUTHAMPTON ESTATE | $145 MILLION
NEW! This 42-acre compound on the Atlantic coast features almost a quarter-mile of beachfront. The 20,000-square-foot residence has 12 bedrooms, 12 bathrooms, and 3 partial baths. Improvements include a guest house, pool, and tennis court.
5. GEMINI | $137.5 MILLION
Originally listed for $195 million, the Ziff family's Palm Beach estate fronts both the Atlantic Ocean and the Intracoastal Waterway. Listed with Todd Peter and Cristina Condon of Sotheby's International Realty.
6. BULL SPRINGS SKYLINE FOREST | $127 MILLION
NEW! A matchless investment opportunity just outside bustling Bend, Oregon, these 32,995 deeded acres of productive timberland offer significant recreational and development potential. Listed by Bart Miller and Robb Van Pelt of Mason Morse Ranch Company.
7. EL RANCH TAJIGUAS |$110 MILLION
NEW! An impossibly beautiful swath of 3,500 acres along the Gaviota Coast north of Santa Barbara, this seaside tract can be traced back to California's Spanish heritage. Aaron Kirman of the Estates Division of Compass Real Estate Los Angeles has the listing.
8. PUMPKIN KEY | $95 MILLION
A 26-acre island, Pumpkin Key sits between Key Largo and the Florida mainland. Improvements include a main residence, two caretaker's cottages, a dock master's apartment, and an office. Russell Post of Ocean Sotheby's International Realty has the listing.
8. VEALE RANCH | $95 MILLION
The main gate to this 3,790-acre ranch stands just 11 miles west of downtown Fort Worth. Bryan Pickens of Republic Ranches has the listing.
10. NOTTINGHAM RANCH | $89 MILLION
Originally offered at $100 million in 2017, this historic Colorado ranching operation beneath the Flat Tops Wilderness Area is listed with Ed Swinford and Brent Rimel with Slifer Smith & Frampton.