Landmarks

,

Ranchland

,

Sporting Properties
Warning
: Array to string conversion in
/home/domains/dev.landreport.com/public/wp-content/plugins/elementor/core/dynamic-tags/manager.php
on line
73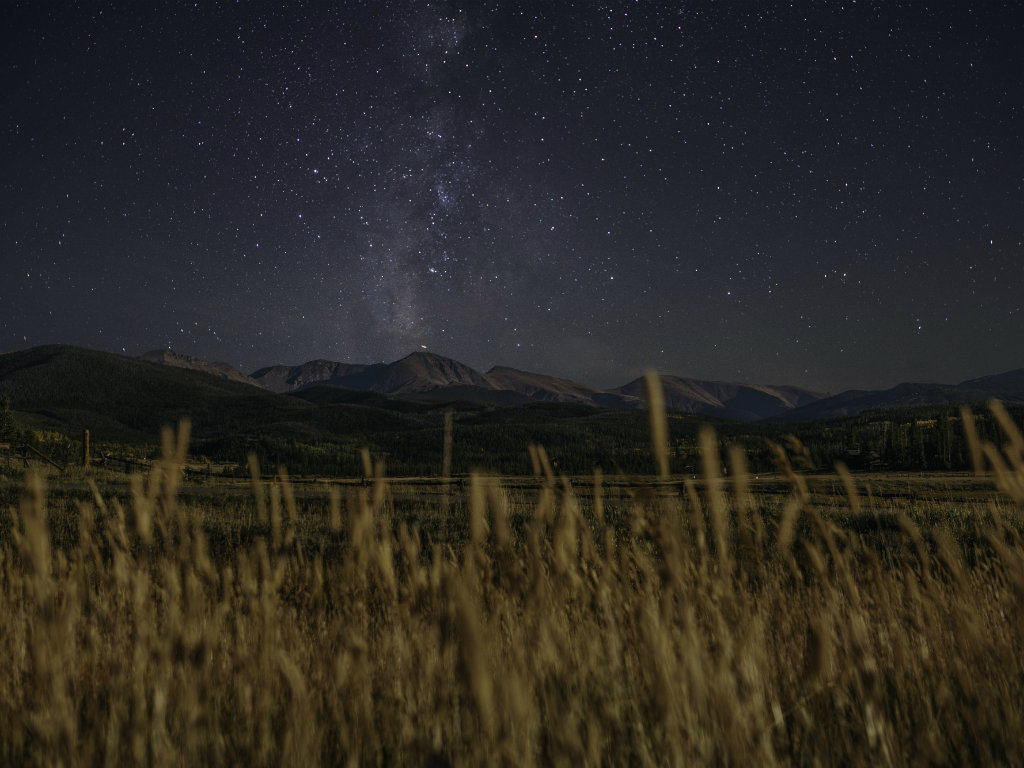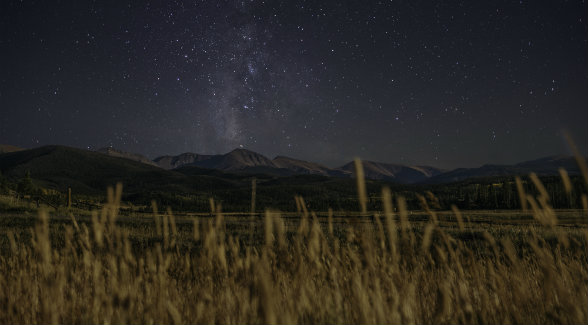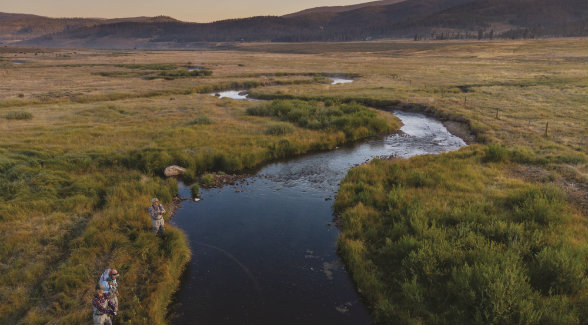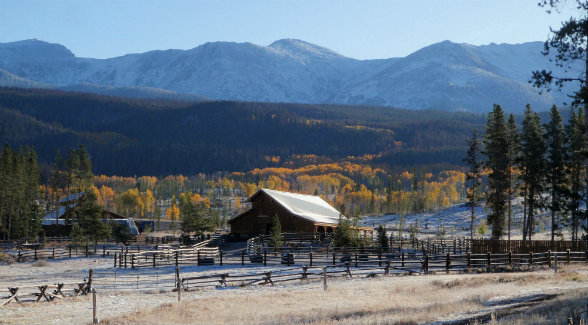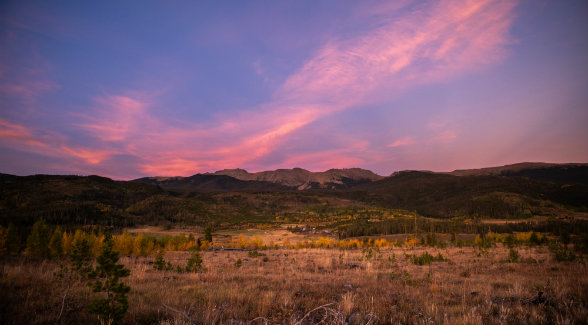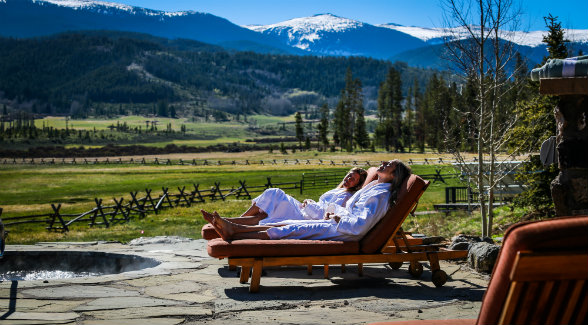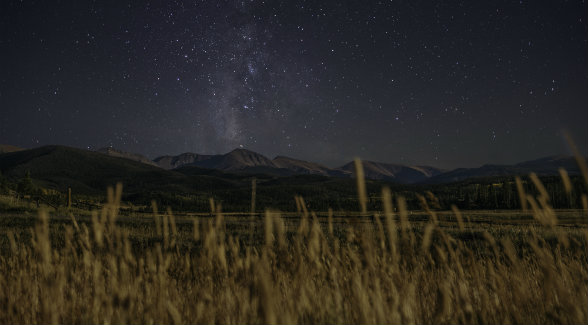 By Bill Briggs
Bob and Suzanne Fanch have crafted a love letter to the American West at Devil's Thumb Ranch.
THE FIREPLACES ARE FASHIONED from landslide rocks. The floors are bathed in heat from the Earth's core. And a restaurant resides inside the property's original farmhouse — where an empty rocking chair still guards the homesteaders' old bedroom.
Every nook and cranny at Devil's Thumb Ranch whispers a careful purpose.
Out on the High Lonesome Zip Line, harnessed guests glide above the pines. Down on Ranch Creek, expert fly fishers teach visitors how to net a feast of cutthroats and rainbows. Up on a ridge near the cabins, horses run to pasture each evening at 5:15.
All of it presents a meticulous medley of Rocky Mountain vibes, a thoughtful love letter to the American West.
True, but spend a few minutes with owners Bob and Suzanne Fanch, and you'll learn a little secret: There was no sweeping blueprint for constructing their pastoral, 6,500-acre haven just 90 minutes west of Denver. Quite simply, the ranch is a study in steady patience and staunch preservation.
"I'd like to say we had a master plan, but we clearly didn't," Bob says with a laugh. "We kind of made it up as we went along."
"In essence, it was about the creation of buildings versus hiring consultants who might tell us, 'Here's what you need to scale the business.' It was more around creating an experience," Suzanne says.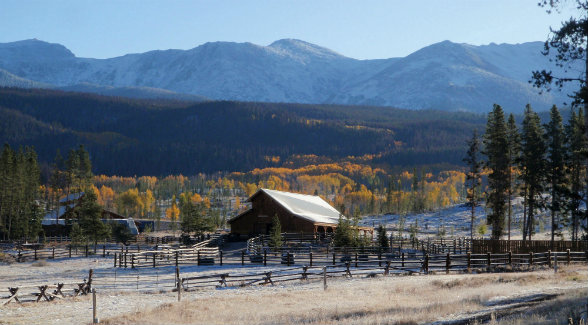 Everything began with a 40-acre parcel and a quest commonly heard among people who work in the Denver office parks: Flee the grind of the city for the empty spaces of the high country.
In 1977, Bob was renting a house in Denver and making a name for himself in the telecom world. He was still seven years away from founding Fanch Communications, which would become one of the nation's largest cable-TV providers.
That year, he bought his first small tract in the Colorado mountain town of Tabernash, which bears the name of a Ute Indian slain in 1878 by a local posse. Just 8 miles from Devil's Thumb Ranch, Bob's original holding offered a view of the Indian Peaks and a place to unplug and snowshoe. He built a log house and basked in the tranquility.
"I loved that it was more remote, not nearly as developed as most of the other mountain towns in the area," he says. "Just a beautiful place to be. I used to escape up there on weekends to get away from work, but it seemed to follow me up."
That work, however, was about to pay off. By the late 1990s, Fanch Communications, where he served as chairman and CEO, had grown to include more than 600,000 customers, including about 525,000 subscribers in a joint venture with Time Warner and the Blackstone Group. In 1999, he sold the company's assets to Microsoft co-founder Paul Allen.
By then, he and Suzanne had married. She had forged her own career as a Denver marketing executive. With the proceeds from his company's sale, Bob purchased the 3,400-acre Diamond Bar T Ranch with its flowering meadows, just east of Devil's Thumb.
The land sparked Bob's first bid to protect mountain vistas from developers who held different visions.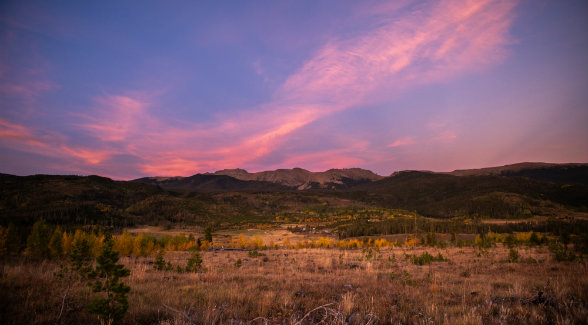 Prior to his purchase, developers had intended to slice up part of the Diamond Bar T into 10- to 15-acre parcels for new homes. Bob had been troubled by their plan. He saw a far different potential for that spread: An extraordinary destination for Rocky Mountain recreation – hiking, cross-country skiing, horseback riding, trout fishing, and much more.
Just next door, the story was the same. The 450-acre Devil's Thumb Ranch was a rugged-yet-dazzling spot beneath the Continental Divide – once home to the Ute and the Arapahoe, a stagecoach line, homesteaders, dairy farmers, and dude ranches. But in the late 1990s, Devil's Thumb was under contract to a Dutch group that was eyeing the land for a condominium development and golf course.
The Fanches toured the ranch with its six cabins, bunkhouse, barn, and restaurant. When they learned of the pending sale and prospective development, they offered a four-word assessment of it all:
"Well, that's a shame."
"As fate would have it, that deal fell apart," Bob says. "It came back on the market, and my company had recently sold. It was just serendipitous."
In 2001, they bought Devil's Thumb. The historic ranch takes its name from a rocky outcropping that juts out of a mountain high above the valley floor. Centuries before, Native Americans had settled their disputes and buried the devil, as the story goes, leaving just his thumb exposed to remind them of the evils of warring among themselves. The Fanches' plan for the ranch was rooted in their respect for its history.
On a ridge across the big meadow from the original ranch compound, they built eight guest cabins in two years. They relocated the stable. Then they began thinking about constructing a new main lodge near the 1930s homestead that would also be saved. The lodge eventually included 52 bedrooms. For its look, they found their muse on an Oregon peak.
During a trip to Mount Hood, the couple visited the Timberline Lodge and its 1930s-era dining room, which was handcrafted into a hexagonal shape.
"We flew our architect out there and said, 'Copy this room,'" Bob says. "That became our dining room, Heck's Tavern. We built the lodge around that shape." Suzanne decorated each room with furniture, antiques, and Western touches from Texas, Wyoming, Washington, and beyond. More artistic concepts flowed whenever the Fanches traveled the West.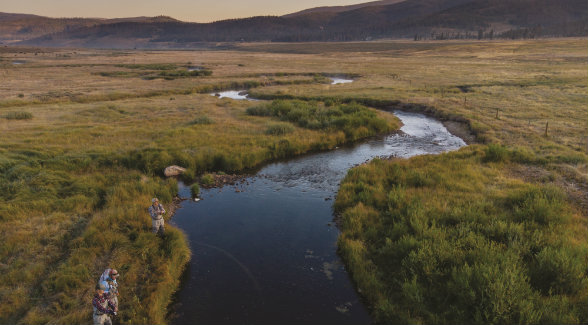 "It's a little dangerous," Suzanne says. "My husband is always looking for another adventure, another project. Every time we're visiting some place, he'll say, 'Well, why don't we do this?' He pulls out his measuring tape and says: 'Gosh, we could do this!'"
Case in point: The Fanches insisted on painstakingly relocating two Civil War-era barns, piece by piece, from Indiana and Ohio to give guests massive rooms for meetings, weddings, dances, and live music. The barns' beams still display the artisans' original axe strokes.
They also built an 18,000-square-foot spa on a quiet corner of the ranch meadow, then channeled geothermal energy to warm that serene space, the guest cabins, and other structures. And throughout the property, they installed wooden floors cut from beetle-kill pine.
"We try to have everything in the construct fit on the land because the natural beauty of the place is so stunning," Bob says. "We kept our development of the ranch to 90 acres. Maybe not even that much. We have been very careful not to impact the land."
"What inspired me toward that preservation ethic was the birth of our children. That brought another level of responsibility about protecting as much as we can for future generations," Suzanne says.
Their daughter Rachel, a recent college graduate, has long enjoyed riding horses on the miles of trails that crisscross Devil's Thumb. Rachel also bears the distinction of being the first person (at age 6) to dip a toe into the ranch's saltwater pool. The deck bears her childhood handprints. Their son Zach, a college junior, loves fishing Ranch Creek. He once hooked 22 trout in a single day.
Over the past two decades, as the Fanches delicately pieced together the resort, they continued to piggyback on the traditions of the original guest ranch that operated there from 1946 to 1972. They sought to share their good thing with more people.
In recent years, they acquired the nearby Ram's Curl Ranch and Black Ranch to expand the property – and to offer a fresh way for people to absorb their unspoiled swath of Colorado. Atop a ridge and in a valley just west of the resort, Devil's Thumb now is offering 24 homesites spread across 550 acres that they've dubbed "The Ranches."
The sites range from 11 to 35 acres. Those sizes are important. They allowed the Fanches to apply to their subdivision a rural exemption to Colorado law, giving each owner the right to drill a well so long as the land remains a low-density development. There will be no fences.
The first custom houses are under construction, including a home owned by Brian Griese, a retired Denver Bronco quarterback who now offers color commentary on the sport's biggest stage, ESPN's Monday Night Football.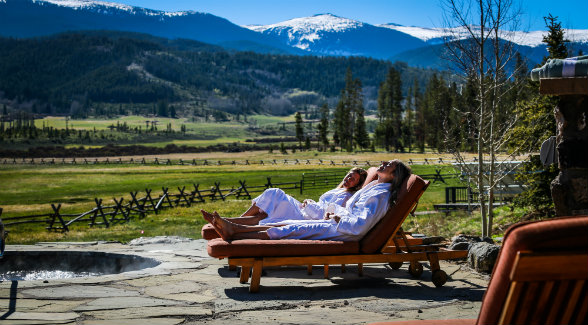 For an annual membership fee, owners receive VIP access to the Devil's Thumb amenities, including the restaurants, spa, private Nordic trails, fishing cabin, and a wine cellar bedecked in cherry wood harvested from a timber stand in Upstate New York that was owned by Bob's father.
On a recent Friday afternoon, Bob stepped onto the sun-splashed patio of Heck's Tavern. As diners dug into Wagyu brisket sliders (from the ranch's 150-head herd) and plates of veggies grown on-site, Bob gazed across the meadow and spoke quietly of the special spot he and Suzanne have built.
"More than ever, people are looking for places like Devil's Thumb. They love being outside. They love not being too crowded," he said, echoing the sentiment that lured Bob up from Denver 40 years ago.
Some of the diners set down their beer steins and looked up from their meals to watch him, not knowing his central role in their current mountain moment. As if he suddenly realized he was blocking the midday scenery, Bob casually turned and strolled off the patio and back toward the Main Lodge, surrendering his view so his guests could soak it all in.
All images courtesy of Devil's Thumb Ranch.
Please sign me up to receive breaking news and updates from The Land Report: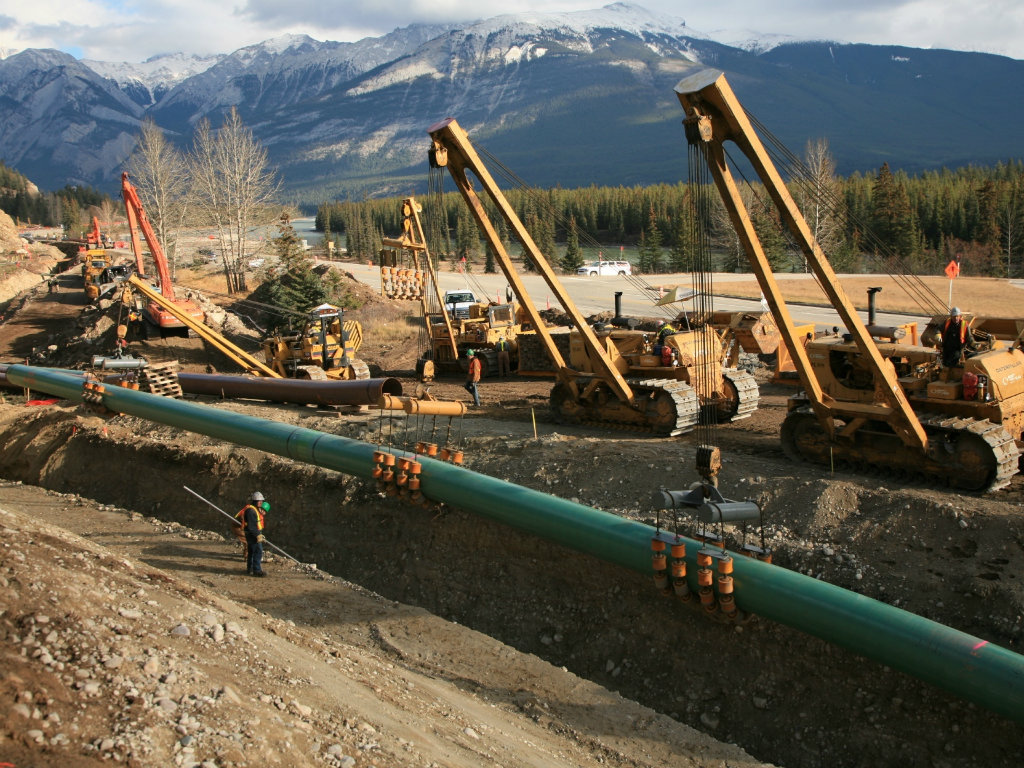 The construction of a $2 billion pipeline that extends 430 miles from Far West Texas …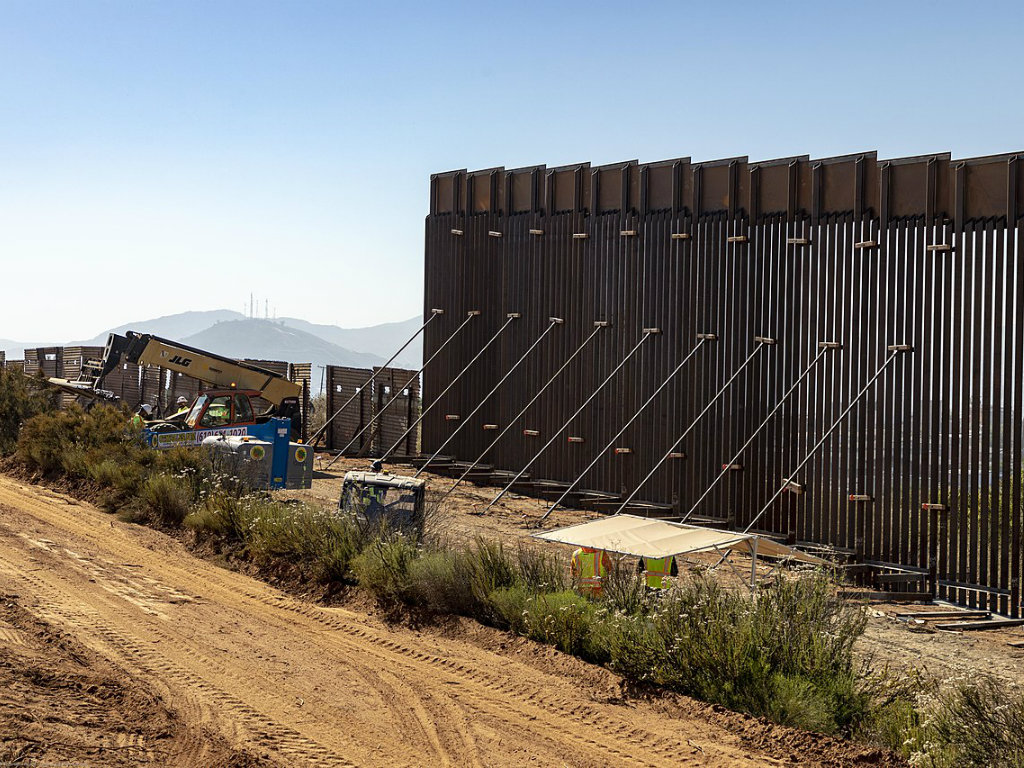 On December 10, 2019 Federal District Court Judge David Briones of El Paso blocked the …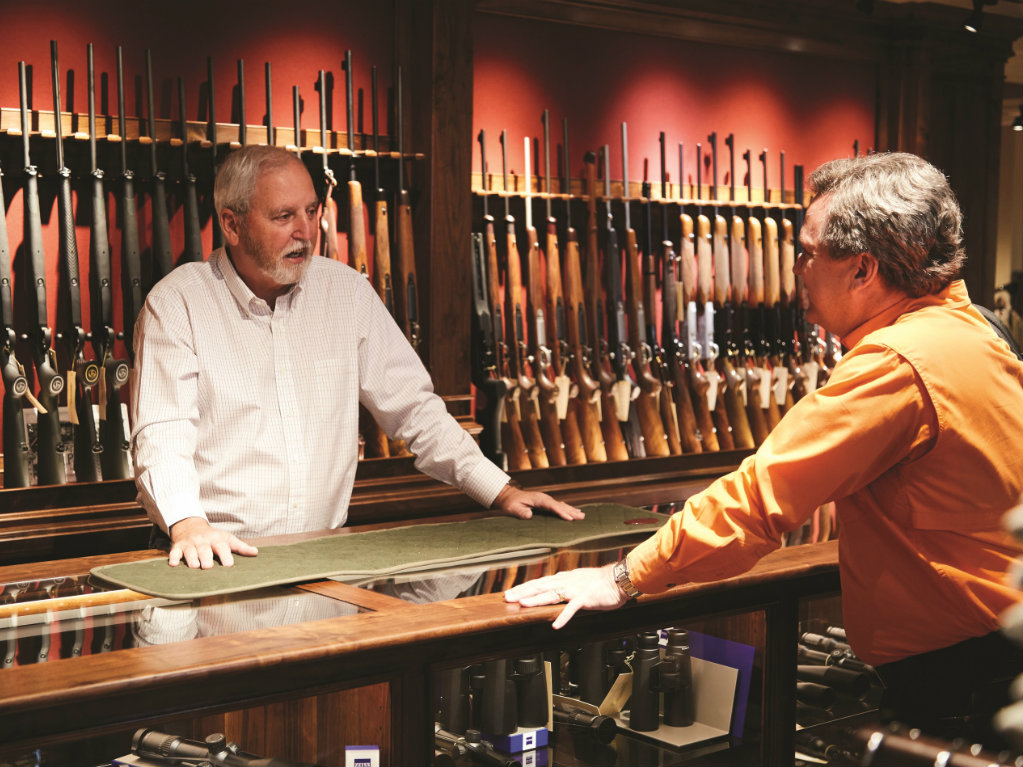 By Henry Chappell Photography by Gustav Schmiege III Russell Gordy has a simple goal for …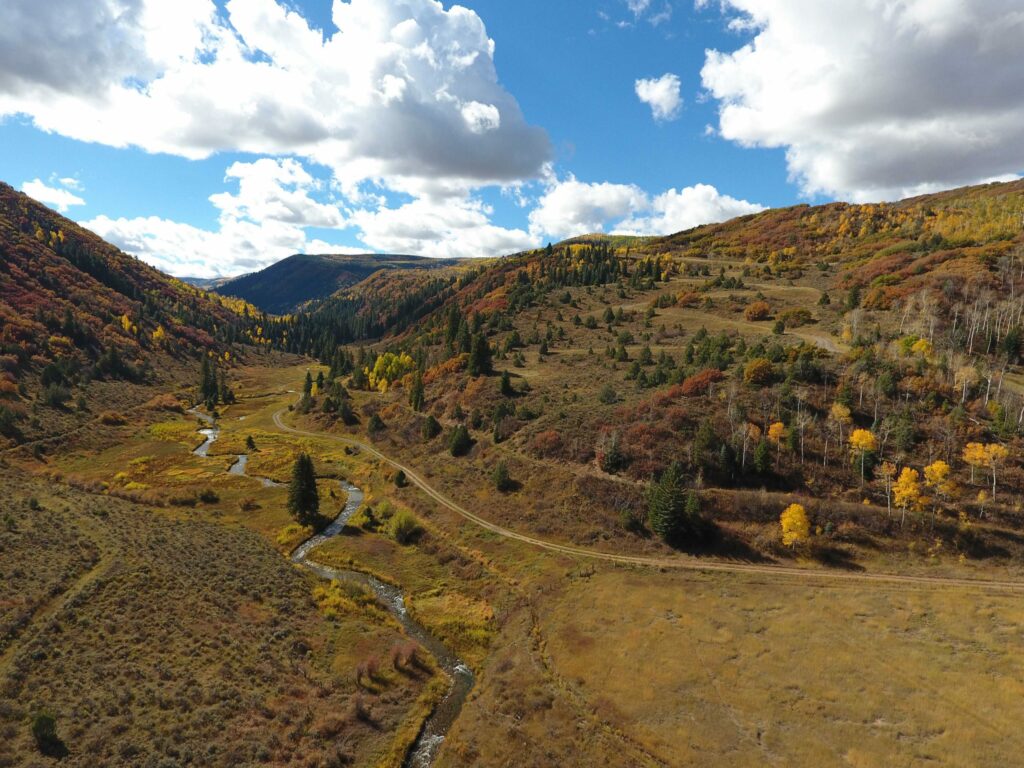 For those who are passionate about outdoor pursuits, the next great adventure can't come soon enough.