Ranchland

,

Sporting Properties
Warning
: Array to string conversion in
/home/domains/dev.landreport.com/public/wp-content/plugins/elementor/core/dynamic-tags/manager.php
on line
73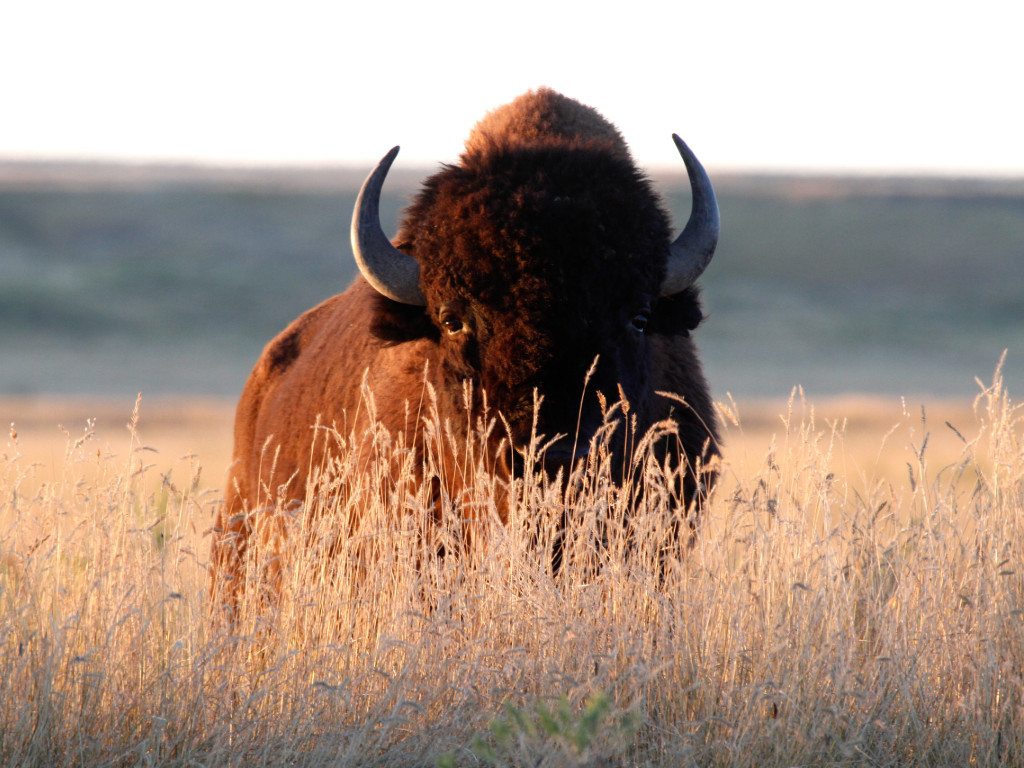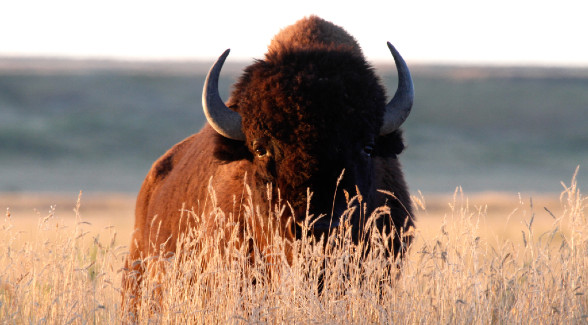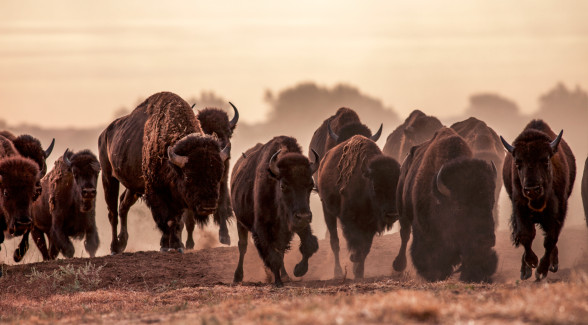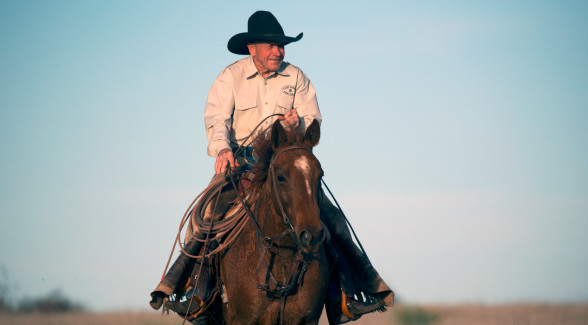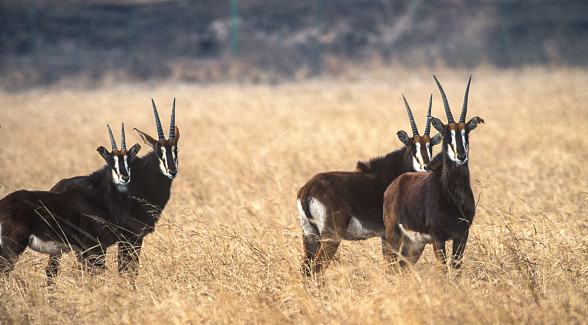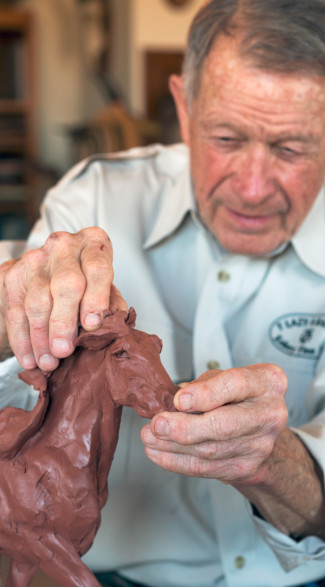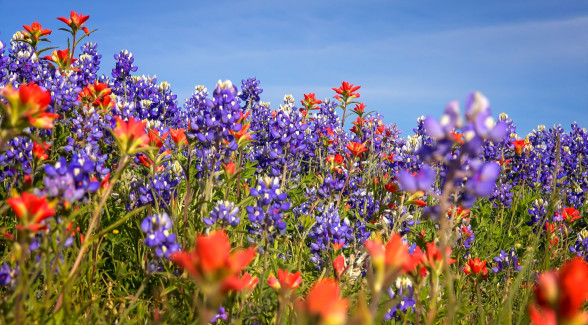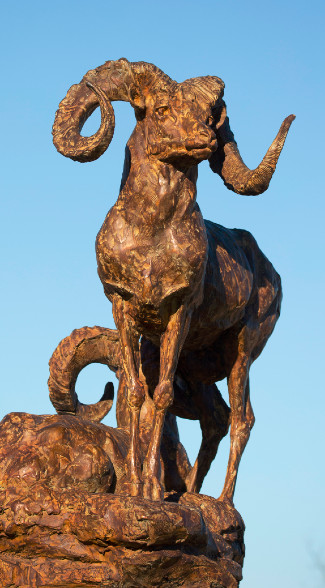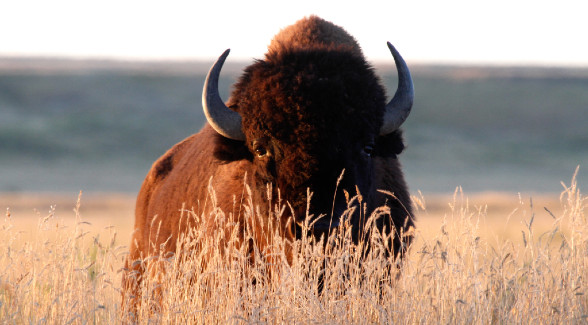 By KATY RICHARDSON | Photography by WYMAN MEINZER
Kelsey's version of home on the range takes place in the heart of the Big Empty. Texas's King County has been home to many of the most storied ranches in the history of the Lone Star State, legends such as the Matador, the Pitchfork, and the Swenson Ranches. In fact, Kelsey's 7,827-acre T Lazy S was once a part of the most famous of them all, the 6666 Ranch. But unlike those cattle kingdoms, the T Lazy S runs beef only when the grass grows tall. Instead, Kelsey stocks exotics. The renowned sculptor has imported them from far-flung locales to facilitate his craft.
"The reason I got the wildlife was to watch them. I'm not good at sculpting or painting animals from photographs. I've got to see them and follow them and just watch them for a while. It's necessary for me," Kelsey says.
Kelsey is an acclaimed Western sculptor, artist, horseman, and pilot. He is a member emeritus of the Cowboy Artists of America and a fellow of the National Sculpture Society. His works are on permanent display at the Pro Rodeo Hall of Fame Museum, National Museum of Wildlife Art, C.M. Russell Museum, and many others. Texas Gold, his monumental sculpture of a herd of longhorns, has become a Cowtown icon. The life-size work, cast in 900 sections, has welcomed millions of visitors to the Fort Worth Stockyards National Historic District.
In the two decades Kelsey has owned the T Lazy S, he has watched not only the white-tailed deer, turkey, quail, dove, and wild boar native to the area, but also myriad animals native to other parts of the globe such as addax, eland, ibex, and oryx. Sheep species include aoudad, black Hawaiian, European mouflon, red sheep, and Transcaspian urial. And there are the bison, grazing just as Brewster Higley described in "Home on the Range."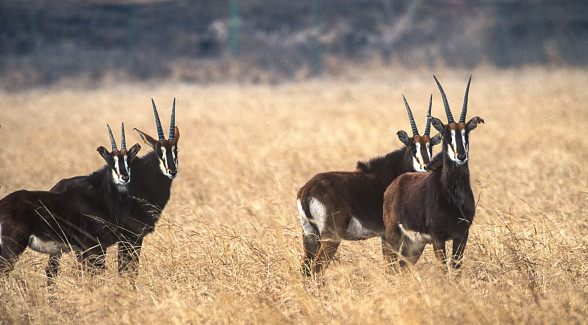 Set on the Rolling Plains, the T Lazy S has been nurtured into a paradise for everyone from artists and writers to hikers, hunters, and four-wheelers. And it was recently brought to market with an asking price of $8.993 million by Charlie Middleton of Chas. S. Middleton & Son.
"Although at times cattle have been utilized for grazing, the focus on this property has been wildlife enrichment," says Middleton. "This ranch was once a portion of the historic 6666. As T.D. has so often done masterfully with clay, he has sculpted thousands of acres of the T Lazy S, enhancing the ranch for wildlife habitat and productivity."
In addition to extraordinary wildlife, the ranch is home to an astonishing variety of topography.
"Right here by headquarters, it's pretty flat, and you wouldn't know there are big, deep canyons and mesas and bluffs and ridges and cliffs on three-quarters of the ranch. Once you get past headquarters, you're hitting the rough country, and that's where you find the water. I love to be by the water, and I'm lucky that the ranch has quite a bit of water on it," Kelsey says.
Indeed, the ranch has an abundance of live water, generally all fed by springs. "Big Buffalo Creek is a live creek that flows through the western portion of the ranch for over 3.5 miles. This creek has proven to be reliable and provides water to livestock and wildlife in three pastures. It carved a path through the rugged breaks of the ranch for hundreds of thousands of years and has a unique wetlands habitat," says Middleton.
"Water runs in Buffalo Creek all the time, and you can watch fish in it," Kelsey says. "There is another canyon with a big reservoir that used to be part of the Four Sixes; they put bass in it. My mold makers are big fishermen, and whenever they come here, they run to the reservoir," he adds with a laugh.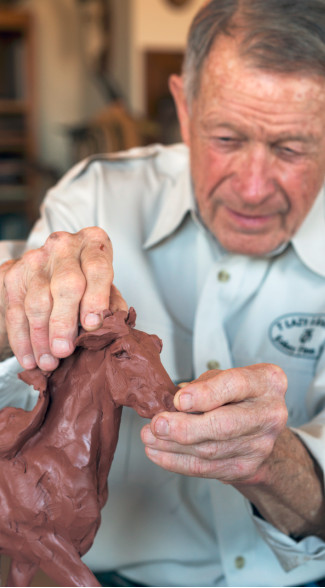 "The T Lazy S Ranch is a four-season recreation ranch offering hunting of native and exotic wild game and wing shooting, as well as excellent opportunities such as long-range shooting, horseback riding, hiking, and camping," Middleton explains.
There are also abundant areas suitable for four-wheeling and plenty of practical applications for it. "Four-wheelers are handy for checking fence and things like that, but if I have the time, I'd rather ride a horse," Kelsey says. "Driving a four-wheeler, you somehow lose your connection to the land, but on a horse, you don't." The mode of transportation he favors most: his helicopter.
"It's like being on a magic carpet. You glide and slide through canyons or hover if you want to look at a flower," Kelsey says. He especially enjoys piloting his helicopter in the spring. "I have never been in any place on Earth that has more wildflowers than this ranch right here. This place has so many wildflowers," Kelsey says.
He adds that from his bird's-eye view upstairs, "There was a multicolored carpet on the ground and then, all of a sudden, there would be all yellow, then all purple, then all blue, then all pink, then back to maroon. It was just back and forth—it was just amazing. Just absolutely amazing."
It was springtime, in fact, when Kelsey first laid eyes on the ranch. Kelsey and his high school sweetheart, Sidni, registered their T Lazy S brand before graduating and then married after receiving their diplomas from Bozeman Senior High in Montana. The pair settled on a ranch in Montana and spent many happy years there.
In 2000, Sidni lost her battle with cancer. Life in Montana just wasn't the same for T.D. "I was delivering two monuments to the Texas Interpretive Center, and I have a dear friend who managed Spade Ranches. And he's been a dear friend for 45, 50 years, and he said,'You're not doing too good in Montana. You need to look at a ranch while you're here.' So I went out and looked at it, and it was just like paradise. Water was everywhere. Flowers were everywhere.
Kelsey was swayed by the beauty of the Rolling Prairies ranch, which was once a portion of the historic Four Sixes, and his friend, Spade Ranch CEO John Welch. He made an offer that was quickly accepted. "I was standing in a pasture wondering, 'What did I just do?'" he recalls. He subsequently sold his Montana ranch and began sculpting the T Lazy S into the work of art it is today.
"First of all, I don't overgraze. At all. I know a lot of my neighbors probably wish I would graze more of it or think I don't use the grass. I do use it — for wildlife. If I feel like there's too much grass and it's going to be a fire hazard, I'll get some yearlings in," Kelsey says.
His biggest challenge has been removing stubborn brush. "I grubbed for 12 years," Kelsey says. "It's relentless. Mother Nature is relentless herself. These are red berry cedars, and the only way to get rid of them is to pull them out by the root. You can't cut them down, and there's no spray that will kill them without killing the grass around it. As for fire, I had a fire here eight years ago, and it burned almost the whole ranch. But all the cedars came back. That root ball is almost fireproof!"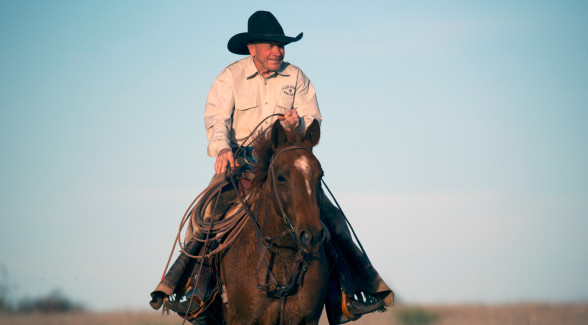 A dozen determined years later and the brush became an attribute. "I picked where I wanted it grubbed," he notes. "I cleared some of the bottoms of the canyons but not too much. I left brush on the side of the hills for erosion and for the wildlife to hide. The wildlife likes to hide in the brush, so all of the side hills are solid brush. Some of the top of the mesas are brush, too. It's cedar and mesquite, so from the air, it looks like a jigsaw puzzle."
Charlie Middleton appreciates the strategy and perseverance. "Mr. Kelsey has been such an outstanding steward of this ranch. Several thousand acres of invasive cedar and mesquite have been grubbed, benefiting wildlife and making the property much more visually appealing. The grass turf has been well-maintained and not overgrazed, and water has been distributed very well. This ranch is ready for someone to enjoy beginning day one," Middleton says.
And while there are certainly a number of tangible amenities on the property — a 6,326-square-foot home, art studio, 8,800-square-foot workshop, two additional metal barns used as aircraft hangars, and a private runway — there are countless intangible assets included.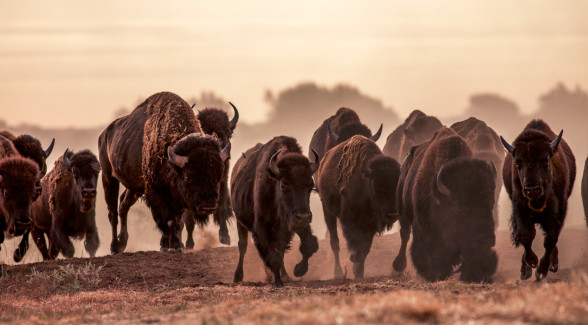 "I've been a rancher and an artist all my life. I was told 50 years ago I couldn't do both. I ignored that. Every time you go out on the land, there's a million ideas," Kelsey says. "There is no limit to the ideas. The only limit is time."
Please sign me up to receive breaking news and updates from The Land Report: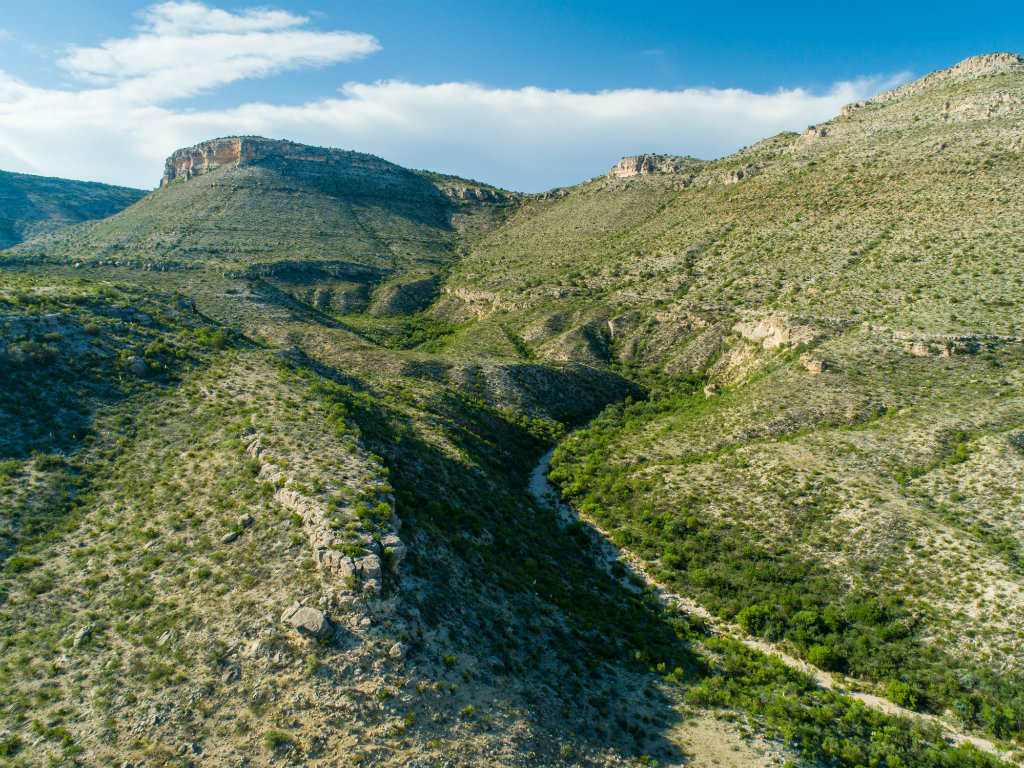 A 420,000-acre collection of ranches assembled over decades, BREWSTER RANCHES is the new national No. …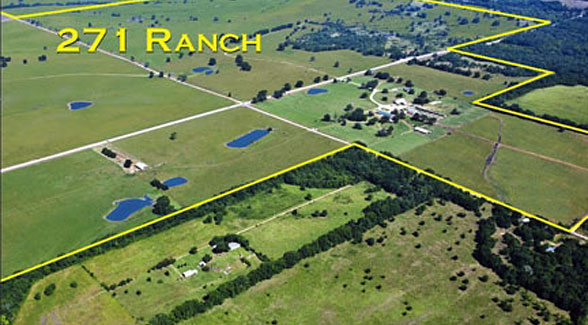 Situated in the picturesque valley just outside of Aspen, the Aspen Valley Ranch is the …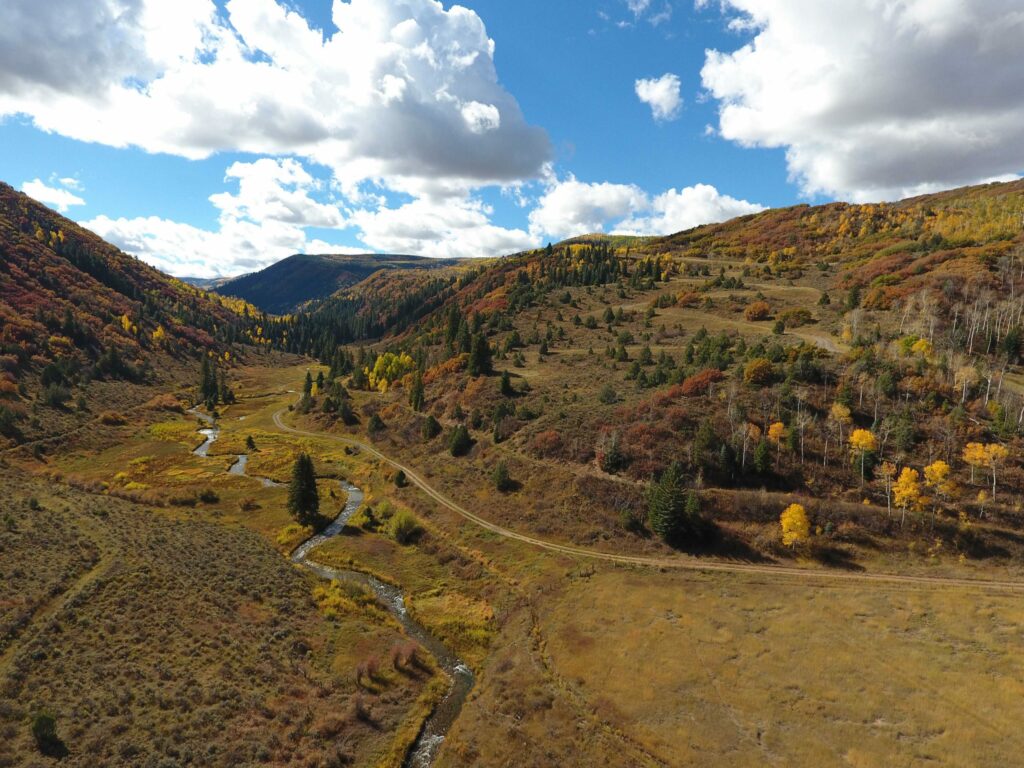 For those who are passionate about outdoor pursuits, the next great adventure can't come soon enough.