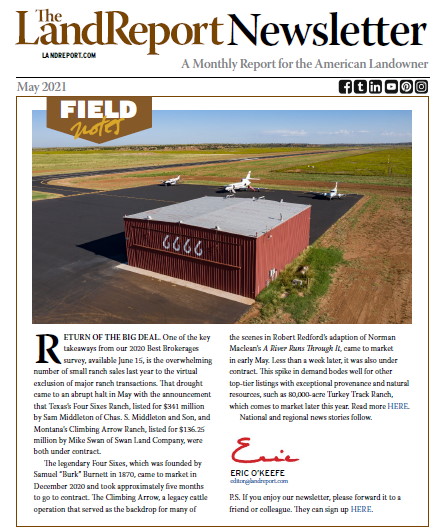 RETURN OF THE BIG DEAL. Earlier this month, Texas's Four Sixes Ranch, listed for $341 million by Sam Middleton of Chas. S. Middleton and Son, and Montana's Climbing Arrow Ranch, listed for $136.25 million by Mike Swan of Swan Land Company, both went to contract. That's the lead story in our May newsletter. Other reads include:
Rother Farm & Ranch Auction fetches $35.8 million.
Midwest farmland values rise 7 percent in Q1 2021.
Supreme Court rules 9-0 for Georgia vs. Florida in the "Water Wars."
For up-to-the-minute reports on breaking news, be sure to follow us on Facebook, Twitter, Pinterest, and Instagram.