The beautiful Yellowstone River Ranch (Double AA) Ranch is one of the most majestic and authentic ranches to come to market in the Paradise Valley of Livingston Montana. Graced with 1,443 acres and 3.55 miles of the legendary Yellowstone River, the ranch offers world-class trout fishing, a robust wildlife habitat and gorgeous scenic vistas of the Absaroka Beartooth Mountains and the Gallatin Mountain Range. The ranch is currently tenant leased and operating as a working cattle ranch with its abundant water rights and grazing land that maintain up to 300 pair of cattle. The property lends itself to future use as an executive ranch or a Montana family retreat that will provide years of enjoyment whether it be on a full or part-time basis.
Water Resources/Wildlife
The Yellowstone River Ranch (Double AA) offers an abundance of water resources and world-class sporting opportunities. The vast landscape of Paradise Valley is an outdoorsman's paradise amongst the lush Yellowstone river bottom with its rugged back county and spectacular snow-capped peaks of the Absaroka Beartooth Mountain range.
The ranch consists of mostly flat river bottom and rolling grasslands used for hay and pasture. Cottonwood, aspen, and willow line the riparian corridors that exist along the long stretch of the Yellowstone River. McDonald, Barney, and Cascade creeks traverse portions of the property. The land supports an abundance of wildlife including white-tail and mule deer, black bear, mountain lion, elk in the winter months, badger, fox, and other small mammals. Bald eagles nest in the riparian corridor in the northern part of the property. Osprey, golden eagle, several hawk varieties, owls, blue heron, geese, Sandhill cranes, and many songbirds are found on the property.
The Opportunity
The Yellowstone River Ranch (Double AA) presents a timely investment to own a world-class recreational ranch in Livingston Montana. Ranches of this size and quality rarely come to market in Paradise Valley.
Extremely Liberal Conservation Easement
The extremely liberal conservation easement with The Montana Land Reliance generally allows the following activities to be conducted on the property subject to the specific terms of the Conservation Easement Document and consistent with the maintenance or enhancement of the natural resources and Conservation values.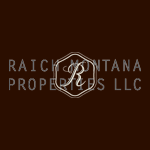 Raich Montanta Properties LLC