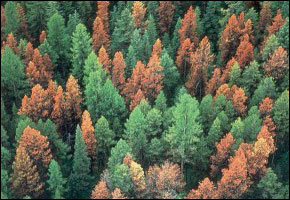 Trees, leaves, and changing colors are one of the glorious rites of fall. Yet the more wild places I visit from coast to coast, the more it becomes apparent that it's not crisp autumn nights that is coloring these trees and thousands more on millions of acres of land. It's a blight with all sorts of scientific names that landowners simply refer to as "beetle kill."
One thing is for sure: beetle kill is devastating. Already it has cost landowners and the government millions (if not billions). Where is it? More and more places. In the Northeast, an alert Donna Massie noticed an odd looking insect on the trees in her backyard in Worcester. After doing her version of CSI Massachusetts and IDing the critter, she contacted local forestry officials. That particular version of beetle kill is being transmitted in the greater New England area by Asian longhorned beetles that arrived in Brooklyn in 1996, most likely in a packing crate from China. As you probably already have guessed, they have no known predator in the U.S. and no plans to return to China. Eradication efforts costing $250+ million have been implemented so far, and officials are doing their utmost to aid landowners in a multi state area, according to this AP report.
In the Rocky Mountains of Central Colorado, I've seen this catastrophe firsthand in Summit County's Gore Range. According to this report in the Denver Post, almost all of the Centennial State's mature lodgepole forest has been decimated, a total of more than 1.5 million acres. And 33 percent of these losses — 500,000 acres of infestation — took place this very year.
Is there a way out? Yes. Unfortunately, it comes with a steep price tag. The only hope to end this scourge is that this winter, temperatures in these areas drop to about -40. That's the sort of brutal cold required to kill these critters off.