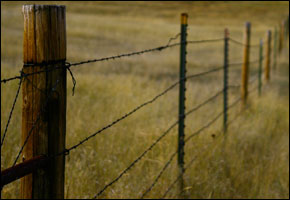 A lot of noteworthy closings taking place in and around Yellowstone County, Montana. Last week we reported on the sale of the 15,800-acre Bar Diamond Ranch. This time around it's the 6,462-acre Scott Ranch on the Crow Reservation southeast of Billings, which James Stinehagen of the Flying S Cattle Co. purchased for $387 per acre, according to the Billings Gazette.
The ranch takes its name from John Scott Jr., a well-known Quarter Horse breeder who sold the property to Jim Leachman a few years ago. Leachman subsequently defaulted on his payments, and the ranch became mired in lawsuits and competing claims that put a dark cloud on the title.
But patience paid off for Stinehagen. In 2007, he acquired the second mortgage. In 2008, he bought out Farm Credit Services to become the primary note holder. And, on Nov. 14, he bought the Scott Ranch at a sheriff's sale in the lobby of the Yellowstone County Courthouse. In essence, he took title with a sheriff's deed by foreclosing on the junior creditors. Guess who was one of the many creditors his Flying S Cattle Co. foreclosed on? James Stinehagen.