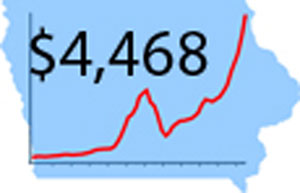 Iowa State reports that the value of an average acre of farmland has increased for the ninth year in a row to an all-time high. According to the survey's director, ISU Extension farm economist Mike Duffy, land values have doubled since 2003, climbing from $2,275 to $4,468 in just five years.
The 2008 average was an increase of $560 or 14 percent over last year. By comparison, 2007 remains the gold standard. Land values increased $704  over the previous year, a whopping 22 percent jump.
And what does the crystal ball reveal?
"Where land values will go in the next year or so is really anyone's guess, but, overall, Iowa farmland should remain a good investment for the long run," Duffy was quoted as saying.
A complete overview, courtesy of Iowa State University, is available here.