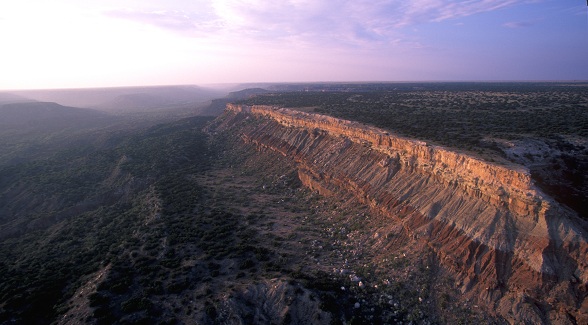 MARCH 29, 2012 POST:
Texas Parks & Wildlife voted to sell 2,014 acres of the Fortress Cliffs Ranch adjoining Palo Duro Canyon State Park to Sooter Ranch of Perryton for $2.4 million. The acreage is under a conservation easement held by the Texas Parks & Wildlife Department.
SEPTEMBER 17, 2008 POST:
Almost 3,000 pristine acres valued at more than $5 million along the rim of Palo Duro Canyon has been sold to The Trust for Public Land (TPL), a nonprofit land conservation organization. After purchasing the Texas Panhandle property, TPL immediately transferred it to Texas Parks & Wildlife, thus increasing the size of Palo Duro Canyon State Park by nearly 10 percent.
"The sale of this property represents the core of our company's mission," says John Watson, President & CEO of Orvis/Cushman & Wakefield in Colorado Springs, which brokered the sale.
Watson spent more than a year spearheading the deal: securing the listing, seeking out TPL and introducing them to Texas Parks & Wildlife, and then patiently shepherding the transaction through numerous appraisals and reviews. "There is a finite supply of investment-grade recreational properties, and Orvis/Cushman & Wakefield's goal is to find the best stewards for the protection and appreciation of the land," Watson added.
A spectacular sporting and recreational property, the 2,864-acre Fortress Cliffs Ranch was recently appraised at $5.22 million ($1,800+ per acre). By deeding it to the State of Texas, TPL increased the size of the adjacent 29,187-acre Palo Duro Canyon State Park by almost 10 percent. "The rare chance to protect six miles of cliffs overlooking the Grand Canyon of Texas, to keep that bluff looking the way the first Texans saw it – this is unparalleled," said Carter Smith, Texas Parks and Wildlife Department executive director. "I know all Texans can appreciate the significance of this acquisition for our park system. It's for everyone alive today, and for generations to come."
The sale closed on August 28.