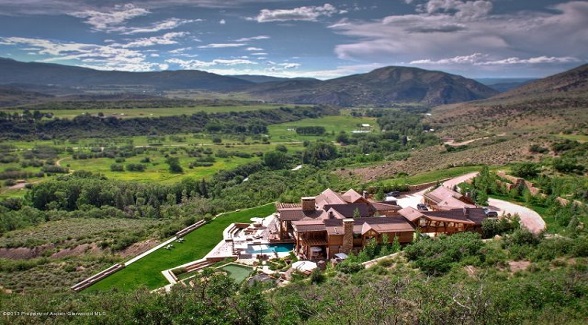 From the Pacific to the Northeast, here are America's priciest properties, led by Walton Ranch in Wyoming, which is listed with Ranch Marketing Associates for $100 million.
1. Walton Ranch: $100 million
This 1,848-acre working cattle ranch was pieced together by the Walton family beginning in 1958. The family placed the ranch under conservation easement in 1983. Billy Long and Ron Morris of Ranch Marketing Associates have the listing.
2. Big Homer's Pond: $92 million
Located in the town of West Tisbury on Martha's Vineyard, Big Homer's Pond is comprised of 266 acres and includes ownership of all developable waterfront, exclusive rights for building on Big Homer's Pond, and exclusive rights to private oceanfront lying to the east of Long Point Wildlife Refuge. Wallace & Co. Sotheby's International Realty has the listing.
3. Broken O Ranch (Texas): $81 million
Located in Boerne, Texas, the historic Broken O Ranch is one of Texas' finest ranches on the market today. Featuring breathtaking views that only the Texas Hill Country has to offer, this ranch is also home to an array of wildlife. Trip duPerier with duPerier Texas Land Man, LLC has the listing.
4. Ranch Dos Pueblos: $79 million
This oceanfront parcel is on the market for the first time in three decades. Spanning 2,175 acres just west of Santa Barbara, it's one of the largest remaining ranches along the breathtaking Gaviota Coast. Kerry Mormann & Associates has the listing.
5. Four Peaks Ranch: $75 million
Nestled in the Rocky Mountains, just outside Aspen, Four Peaks Ranch (pictured above) presents a rare opportunity to own a quintessential mountain paradise. Totaling 876 acres, the 18,000 sq. ft. home on this property features unparalleled views of Mt. Sopris, Mt. Daly, Capital Peak and Snowmas. Joshua & Co. has the listing.
6. Dillingham Ranch: $65 million
Located in Mokuleia, on the North Shore of Oahu, Hawaii, this historic 2,700 acre estate offers all of the charms and essence of Hawaii, from white sandy beaches to mountain terrain and acres of open green space scattered with coconut trees, monkey pods, and rare plant species indigenous to Hawaii. Zackary Wright with Christie's International Real Estate has the listing.
6. Sagg Pond Estate: $65 million
Located in one of the Hamptons' most exclusive enclaves on the banks of the tranquil Sagg Pond, this 33-acre waterfront estate is bordered by dozens of acres of protected land, ensuring privacy and pristine conditions for generations to come. Debbie Loeffler of the Corcoran Group has the listing.
8. Big Creek Ranch: $59.9 million
Only eight miles from Steamboat Springs, 5,034-acre Big Creek Ranch offers rainbow and brook trout fishing along five miles of Big Creek as well as a half-mile of the Elk River. National forest borders 85 percent of the property, offering easy access to an additional 150,000 acres of pristine wilderness, including world-class trout fishing and hunting for elk and mule deer. A mix of forest and meadows provides ideal wildlife habitat and summer pasturage. Listed by Ron Morris and Billy Long of Ranch Marketing Associates.
9. Rosenthal: The Malibu Estate & Vineyard: $59.5 million
Situated 1,400 feet above the coastal fog and four miles from the beach, Rosenthal: The Malibu Estate & Vineyard offers a rare, private wine country lifestyle. Featuring a fully operational vineyard and winery, this Malibu Estate is one of the most sought after properties on the market today. Listed with Kerry Mormann & Associates.
10. Rockpile Ranch: $54.5 million
For only the third time in over a century, this 55,374-acre cattle ranch in the Davis Mountains of Far West Texas is on the market. Since 1992, the Rockpile has been owned by McCoy Remme Ranches (No. 39 on the 2012 Land Report 100). James King of King Land and Water is the listing agent.
Click HERE to download a copy of the March 2013 newsletter.