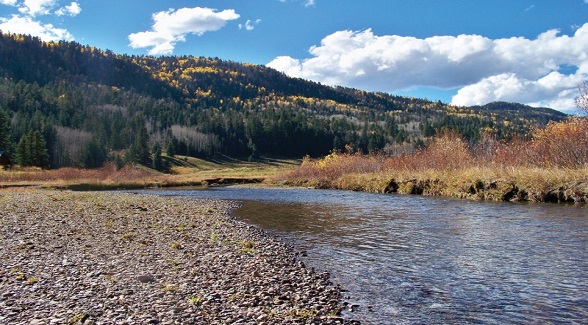 As land values plummeted during the Great Recession, Jay Ellis smelled opportunity. Although fewer properties were being traded and many markets had grown soft, recreational tracts, particularly those with significant water features, were retaining their value far better than others.
"Coming out of the global financial crisis, I knew this would be the best opportunity in my lifetime to start a fund. Land values were depressed, but buyers were still shelling out top dollar for the most desirable sporting properties," he says.
An avid angler, Ellis has fished in the shadows of the Rocky Mountains his entire life. His goal was to combine this passion with the once-in-a-lifetime opportunity that was presenting itself and launch a fund that targeted undervalued properties. The lone caveat? They possess significant water features.
In his previous life, Ellis had been a Wall Street hotshot. Ellis opened Morgan Stanley's institutional sales office in Dallas. His non-stop, brassy banter ideally suited to a trading desk. As fate would have it, one of his top clients at Morgan Stanley was legendary energy entrepreneur T. Boone Pickens.
Pickens of course has a profound understanding of land-based resources. An ardent conservationist and a lifelong bird hunter, he was honored as The Land Report's inaugural Legacy Landowner last year. Ellis approached Pickens with his idea, and, after several rounds of negotiation, a partnership was forged. Last May, at the 2011 Land Report Broker Summit at Pickens' Mesa Vista Ranch, the formation of Sporting Ranch Capital was announced to the nation's leading brokers. Simultaneously, it debuted online at www.sportingranchcapital.com.
Right out of the gate, Ellis identified a perfect fit. In August, the newly minted fund acquired Hidden Lake Ranch, a 760-acre parcel approximately 20 miles from Pagosa Springs, Colorado. The fund's first acquisition included five lakes and more than two miles of Weminuche Creek (pictured above). Dan Murphy, a local broker with 27 years of experience in Southern Colorado and Northern New Mexico, characterized the acquisition by Sporting Ranch Capital as "the best buy in this valley in the last two decades."
Ellis this contracted with CFI Global, a leader in stream restoration management, to study Hidden Lake's water features and to undertake a comprehensive plan for their rehabilitation, including biological data collection, water quality monitoring, basin hydrology research and historical flow analysis. This summer, CFI Global will begin executing that plan. When completed, Ellis anticipates that the fly-fishing at Hidden Lake Ranch will compare with any experience on Colorado's Western Slope.
Less than 60 days after closing on Hidden Lake Ranch, Sporting Ranch Capital made a second acquisition: Woods Creek Ranch in Idaho's Teton Valley. Situated just three miles from the Driggs Airport and half an hour from Jackson Hole, the ranch's mile-plus stretch of private spring creek fishery is home to native Yellowstone cutthroat trout as well as brook trout. Woods Creek Ranch also features superb waterfowl hunting on enhanced wetlands; the barley fields on this quarter-section are ideal terrain for upland birds as well as deer and moose. "A buyer would be hard pressed to find a parcel in such a desirable market that possesses such diversity in a 160-acre package," say Carlos Ordonez of Live Water Properties. Ordonez has worked with the fund on several acquisitions, including Woods Creek Ranch.
As the fourth quarter began to wind down, a third property, the 518-acre Chama Ranch in Northern New Mexico, was added to the fund's portfolio. The ranch already has five professionally enhanced lakes and excellent fishing along the fabled Rio Chama. Ellis believes that with the proper execution, he can elevate its waters to gold-metal status.
But three acquisitions were just a start. As 2012 wound down, Sporting Ranch Capital made a final buy: a 204-acre parcel owned by the LDS Church on the Upper Provo River just east of Salt Lake City, Utah. Ellis has already brought on seasonal consultants to navigate the permitting process. Once again, Shannon Skelton at CFI Global has been brought on board to enhance the fishery of the property. Due to the abundance of water, Skelton is already calling the Upper Provo "his signature project."
With four properties in its portfolio and a fifth in the works, Sporting Ranch Capital is poised to close Fund I at the end of the first quarter with approximately $30 million in invested capital. It goes without saying that Ellis is full steam ahead on Fund II. Despite the volume of improvements being undertaken on each of the properties, all are slated to be on the market by Labor Day this year. Given the superb condition of the Chama Ranch, however, Ellis believes it can be actively marketed as soon as this summer.
Thanks to its innovative strategy, an iconic backer, and an investor roster that reads like a Who's Who in corporate America, The Wall Street Journal and Barron's have already picked up the story of this first-to-market ranch fund. Ellis's goal for year two? Double-digit returns — and plenty of fly-fishing this summer.
Download your digital version of the Spring 2013 edition of The Land Report.