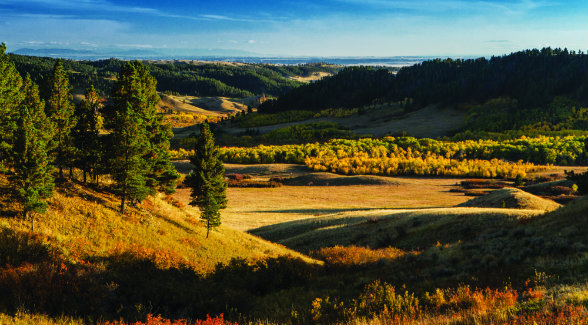 A world-class array of legacy properties, production ag ranches, and resort retreats. — The Editors
1. SOLD! Copper Beech Farm (Connecticut): $130 million
A relic of Old Greenwich, this 50-acre estate is the last of its kind and includes two islands and more than a mile of shorefront. David Ogilvy of David Ogilvy & Associates has the listing. Click here to view the video.
2. Pumpkin Key (Florida): $110 million
This 26-acre island in the Florida Keys sits between Key Largo and the mainland. Improvements include a main residence, two caretaker's cottages, a dock master's apartment, and an office. Accommodations and dockage at Ocean Reef transfer. Russell Post of Russell Post Sotheby's International has the listing.
3. Homer's Pond (Massachusetts): $108 million
This private retreat is set on 314 acres along the southern shore of Martha's Vineyard. Available in its entirety or in smaller parcels. Grace Bloodwell and Charles Carlson of South Light Property have the listing. Click here to view the video.
4. Y.O. Ranch (Texas): $85 million
The Y.O. is recognized as a world leader in the management and preservation of exotic game. This iconic 29,000± acre Texas spread has been shepherded by the Schreiner family since 1880. Robert Dullnig of Kuper Sotheby's International Realty has the listing.
5. Broken O Ranch (Texas): $81 million
It's hard to imagine more than 4,000 acres so close to a major metropolitan area, but that's exactly the case with the Broken O, which is nestled less than half an hour outside of San Antonio. Listed with The duPerier Texas Land Man.
6. Crazy French Ranch (Colorado): $79 million
This Southern Colorado landmark encompasses 40,000 acres that are home to bison, black bear, elk, mule deer, pronghorn, cougar, and turkey. Remnants of the Santa Fe Trail traverse the Crazy French, which features the highest point east of the Rockies. Henry Field, Field Brokers LLC has the listing.
7. Walton Ranch (Wyoming): $68.7 million
Set at the foot of the Grand Tetons along the banks of the Snake River, this 1,848-acre working cattle ranch was pieced together by the Waltons starting in 1958. Twenty-five years later, the family placed the ranch under conservation easement. Billy Long and Ron Morris of Ranch Marketing Associates have the listing. Click here to view the video.
8. Four Peaks Ranch (Colorado): $75 million
This Joshua & Co. listing outside Aspen features views of Mt. Sopris, Capital Peak, and Snowmass. More than 15 miles of trails crisscross the property, which sits on 876 acres. Click here to view the video.
9. Rancho Dos Pueblos (California): $65 million
This oceanfront parcel is on the market for the first time in three decades. Spanning 2,175 acres just west of Santa Barbara, Rancho Dos Pueblos is one of the largest remaining ranches along the Gaviota Coast. Kerry Mormann & Associates has the listing. Click here to view the video.
10. IX Ranch (Montana): $64.5 million
This legacy cattle operation (pictured above) runs a herd of 4,300 on more than 126,000 acres. Five species of upland birds complement huntable populations of elk, mule deer, whitetails, antelope, and mountain lion. Listed with David Johnson at Hall and Hall. Click here to view the video.