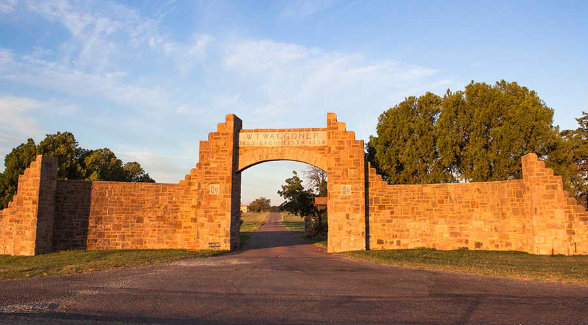 Texas's largest ranch behind one fence changes hands for the first time since 1849. — The Editors
SOLD! W.T. Waggoner Ranch (Texas): $725 million
Land Report 100er Stan Kroenke closed on this legendary ranch in February. Bernard Uechtritz and Sam Middleton spearheaded the record-setting 510,527-acre listing, which came to market in August 2014. Joel Leadbetter of Hall and Hall represented Kroenke Ranches.
Ford Ranch: $60 million
One of the largest holdings in the Texas Hill Country, these 31,789 acres near Brady are also referred to as the G. Rollie
White Ranch. Sam Middleton of Chas. S. Middleton & Son has the listing.
South Texas Hunting Ranch: $33 million
A turnkey South Texas hunting ranch, this 10,000-acre tract boasts 5 water wells and 40 ponds. It is conveniently located
40 minutes north of McAllen in Hidalgo and Starr Counties. Mark Connally of Texas Heritage Brokers has the listing.
Barrel Springs Ranch: $30.77 million
This historic Davis Mountains cattle operation encompasses 30,770 acres. Turn to pages 38—39 for more information on this Far West Texas landmark. Listed with duPerier Texas Landman.
Fortune Bend Ranch: $28.7 million
These 4,400+ acres south of Possum Kingdom Lake feature approximately 45,000 feet (8.5 miles) of Brazos River frontage as well as water rights. All minerals conveyed. Listed with Allen Crumley of Williams Trew.
Comanche Trail Ranch: $28.3 million
Located in the high Chihuahuan Desert between Fort Stockton and Marathon, this 48,404-acre Trans-Pecos landmark sits on the historic Comanche Trail. Listed with King Land & Water.
Barton Canyon Ranch: $25 million
One of the largest privately held offerings in Austin, this 128-acre livewater property features more than a mile of Barton Creek frontage with several deep swimming holes. Listed by Gary and Michelle Dolch with Kuper Sotheby's International Realty.
SOLD! Cerrito Prieto Ranch: $23.8 million
Located in the heart of South Texas's Golden Triangle, Cerrito Prieto is one of the best watered ranches in the red dirt region of Webb County. Renowned for its hunting, the ranch has been managed under Texas Parks &Wildlife's MLDP III program. Listed by Jeff Boswell with Republic Ranches.
East Division – Mesa Vista Ranch: $20 million
Home to the world's best quail hunting, these 16,013 acres are a Panhandle landmark featuring 10 miles of Canadian River bottomland and Indian Creek drainage. Sam Middleton of Chas. S. Middleton & Son has the listing.
Rocking W Ranch: $19.75 million
Alice Walton's 1,435-acre equestrian operation is a Brazos River Valley landmark. A world-class show barn, owner's residence, and additional staff residences are a few of the many improvements. Listed with Allen Crumley of Williams Trew.