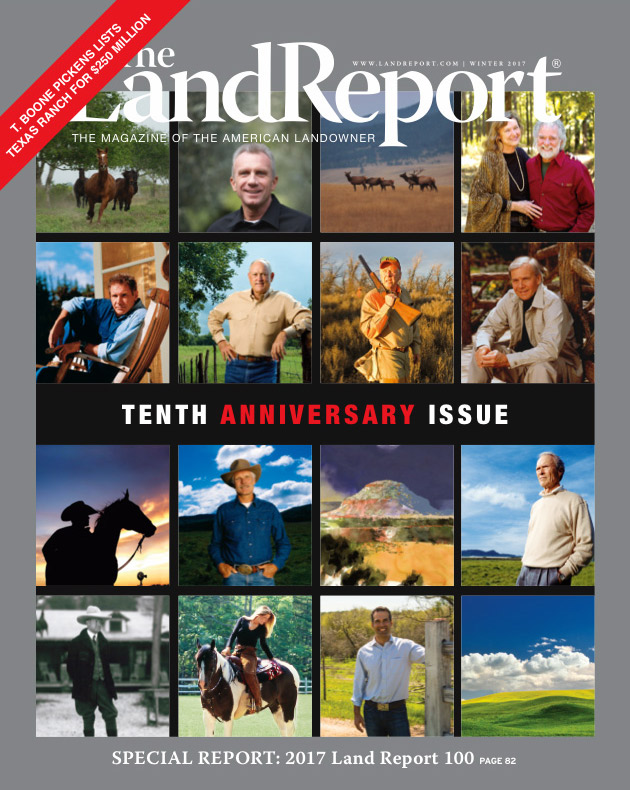 America's largest landowners continue to increase their holdings. That's one of the many takeaways from the 2017 Land Report 100 sponsored by LandLeader. Liberty Media chairman John Malone retained the top spot as the nation's largest landowner with 2.2 million acres, and his good friend Ted Turner ranks No. 2 with 2 million acres. Worth noting is that in 2017 the combined acreage owned by the country's 100 largest landowners increased by more than 2 million acres, an area greater than the land mass of Delaware.
The Class of 2017 includes more than half a dozen new faces, including Subway cofounder Peter Buck (No. 11) and Interactive Brokers Group chairman Thomas Peterffy (No. 19). Buck, who nearly cracked the Top Ten with 800,000 acres, has vast timberland holdings in Maine totaling more than 1,000 square miles. Peterffy snapped up one of the country's prime timber forests, paying more than $710 million for Florida's Foley Land and Timber, which totals 561,000 acres.
Read the 2017 Land Report 100 HERE.
In addition to our landmark survey, be sure to read T. Boone Pickens' account of why he's selling his beloved Mesa Vista Ranch in the Texas Panhandle. The asking price? $250 million.
Read the 2017 Land Report 100 HERE.