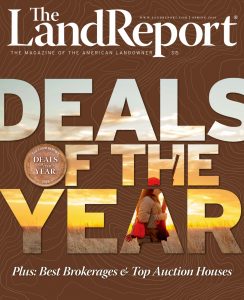 America's Best Brokerages and Top Auction Houses headline a blockbuster Spring issue showcasing our 2019 Deals of the Year:
2019 Deal of the Year: It may have been listed for more than $54 million, but that didn't stop Texas's La Bandera Ranch from going to contract in just 26 days.
2019 Ranchland Deal of the Year: For only the second time in history, Wyoming's Bixby Ranch changed hands.
2019 Conservation Deal of the Year: Charles Munger acquired — and then donated — Santa Barbara's Las Varas Ranch.
2019 Farmland Deal of the Year: America's smallest appellation — Cole Ranch — found a new steward in Mike Lucia.
2019 Timberland Deal of the Year: Timber REIT Weyerhaeuser optimized its portfolio by selling more than 1 million acres nationwide, including 630,000 acres of Montana timberland to Southern Pine Plantations.