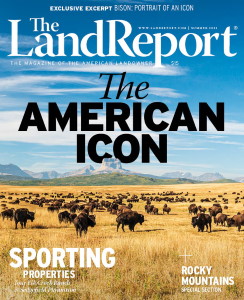 Our Summer 2021 Issue features a compelling lineup of great reads:
Sporting Properties: Tour one of Bear Bryant's favorite haunts, Alabama's Sedgefield Plantation, and then go west to Colorado's Elk Creek Ranch.
Rocky Mountains: Go behind the scenes at Montana's Beartooth Group. Learn the meaning of The Circles. Gain a deeper appreciation for our national mammal.
Turner Institute: Todd Wilkinson details Ted Turner's bold new venture: the Turner Institute for Ecoagriculture.
For up-to-the-minute reports on breaking news, be sure to follow us on Facebook, Twitter, Pinterest, and Instagram.